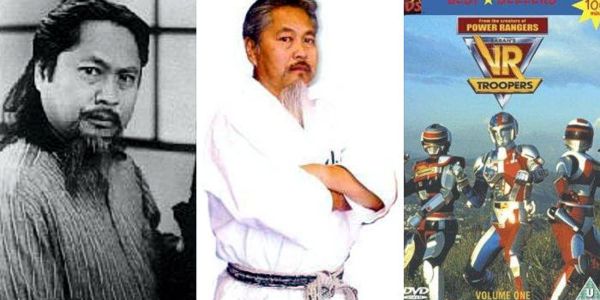 Richard Rabago is a high-ranking Shorin-ryu karate Master who has the experience, training credentials, and Budo skill to have earned the right to be called "Master" several times over. If you call him master though, you'll get a roll of the eyes, a slightly embarrassed laugh, and the words, "just call me Sensei – that's enough". A throwback to the age of Budo and Honor, where a Karateka earned respect through skill and dedication, not by self-given titles, Rabago measures himself against a higher standard than is commonly used in Martial Arts today. Trained by two of Karate's most famous Shotokan masters, Nishiyama and Oshima, Rabago has learned his most important lesson from them – THE BASICS ARE EVERYTHING…
Applying the karate lessons of commitment, perseverance, and mental training, Richard Rabago also embarked on the dual careers of engineering design and acting. Appearing in numerous television and movie roles, while holding down a job as a digital chip designer, he became well-known for his part in VR Troopers. Still working, teaching, and pursuing his acting career, Rabago insists that the most important lessons he can teach his students are not physical ones, but the MENTAL. "I teach my students never to say the words, 'I can't do it.' Because this will help them for their entire life. If you have a positive attitude from a young age, and then become an adult, your positive thinking will push you to whatever goals you might have."
He was born August 14th, 1943 on the Island of O'ahu and raised on the garden isle of Kauai. As he was growing up on the Islands, Rebago had a chance to experience and study many different forms of martial arts. My studies included: Judo, Aikido, Kempo and boxing. This is where my interest into the career of martial arts began.
After completing high school he moved to California in August of 1961 and began his training in Shotokan Karate under the instruction of Tsutomu Oshima and Hidetaka Nishiyama. Sensei Rebago trained and studied the principles of Shotokan until 1968. In 1969, he had the chance to study Kobayashi Shorin-Ryu Karate under Senseis' George Terukina and Seikichi Iha. He progressed through the years and earned his title as "Sensei". Richard Rabago then opened his own dojo and for the past 30 plus years taught Kobayashi Shorin-ryu and specialized techniques in use of force.
Richard Rabago was also an actor and producer, known for V.R. Troopers (1994), Pocket Ninjas (1997) and Tao of Karate (1996).
Richard Rabago died on May 18, 2012 at the age of 68 in Cerritos, California, USA.
Martial Arts: Okinawan Shorin-Ryu
Rank: Black Belt, 7th Degree
Experience: 1961 to present
Weapons: Tonfa, Sai, Bo, Kama, and Nunchaku
Publications:
Participation on Martial Arts Books & Magazines
Advance Tonfa (Japanese Weapon of Self-Defense)
Dynamic Nunchaku
The Master Speak
Martial Arts Magazine
Training Video Produced by Richard Rabago
Tao of Karate
Awards:
Having earned numerous awards in my lifetime, the three awards that I am most proud of and the most inspirational to me are:
Certificate of Appreciation, City Council Lawndale, CA
Masters Hall of Fame
Civic Duties
Reserve Sheriff's Deputy for the County of Los Angeles from 1984 to 1990. During this period, I encountered numerous situations where my skills in martial arts played a vital role in conducting arrests. As an experienced Martial Arts Instructor, Sensei Rabago has provided fellow officers training and enhanced their maneuvers in defense tactics.
Golden Masters Instructor's Award – given in recognition of my dedication and teaching of martial arts at the highest mental, physical and spiritual level.
Civic Functions
Karate Demonstrations
Torrance, CA
Gardena CA
Carson, CA
Pasadena Asian Expo, Pasadena, CA
West Covina, California