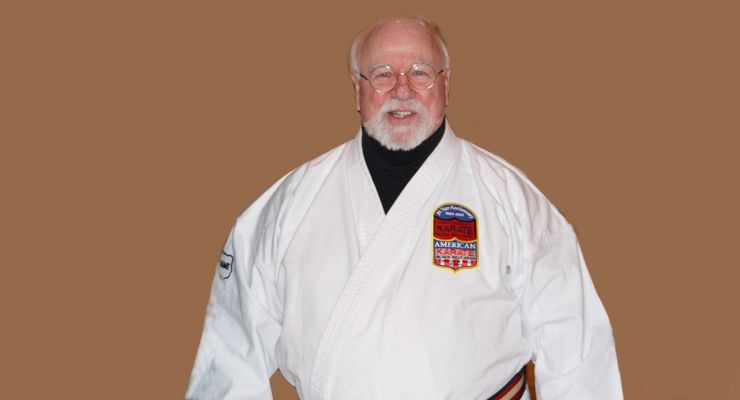 Grandmaster Richard W. Jenkins was born in 1942. He began his training in Shotokan Karate while in the U.S. Navy and earned his Black Belt rank at the age of 19 in 1961. He holds dan rankings in Tae Kwon Do Chung Do Kwan, Tae Kwon Do Moo Duk Kwan, Ni-Gojuryu Karate, and Judo. On January 3, 1991 the Kokusai Dai Ni Gojuryu Karate Kyokai appointed Richard a Shihan in North America. Richard has also studied aikido, jujitsu and kobudo.
In 1965 Richard W. Jenkins settled in Dallas, working as the manager of the Adam & Eve Health Resort where he met member Allen Steen. Steen was just beginning to establish his martial arts schools called the Texas Karate Institute in the Dallas area. After an extended discussion, including a sparring session, Allen Steen asked Richard W. Jenkins to come and work as his business manager and to run the Texas Karate Institute Hillcrest school. With the help of Allen Steen, James Toney, Fred Wren, Keith Yates, and others, and because of his former Shotokan training, Jenkins quickly adapted to the Texas Karate Institute methods.
Much of Mr. Jenkins' managerial skill and personal charisma went into what resulted in a very dynamic and rapid growth of Steen's Dallas organization into a Texas-wide chain of successful and profitable schools. Richard Jenkins is a motivator. He can motivate people in their business and personal lives, and has been responsible for helping many people establish very successful business ventures. He is always willing to unselfishly help anyone he can (even a competitor). The list of those he's advised includes Jack Hwang, Hee Deok Park, George Minshew, John Liles, and more.
After helping establish a firm foundation for Allen Steen's karate empire, Jenkins moved with Fred Wren and Mike Anderson to the center of the country where they opened and operated several successful schools, the Black Belt Karate Association, in Oklahoma City and St. Louis. Jenkins later moved to Florida, with student Walt Bone, and established a highly successful chain of schools, the Florida Karate Academies.
Richard W. Jenkins had a successful tournament career, placing in or winning numerous regional and state titles, as well as winning a national championship at Jack Hwang's All American Open, one of the key national tournaments during this time. He is also a highly skilled teacher utilizing his ability to motivate his students and to attain goals they would have thought impossible. He was awarded the American Karate Black Belt Association – Chin Sook Hage Kwan (AKBBA–CSHK) Instructor of the Year in 1988. Many of his students have become national and state champions while others have gone on to be instructors and school owners. He also served the AKBBA–CSHK as its Secretary and as the Secretary for the AKBBA-CSHK High Dan Board from 1986-2000. He retired as an Emeritus member in 2011.
In May of 2004, Grandmaster Richard W. Jenkins was inducted into the Texas Martial Arts Hall of Fame during ceremonies held in Waco, Texas.
Grandmaster Richard W. Jenkins lives in Houston where he owns and operates the Orange Grove Water Company, which provides water utility to the North Houston community.