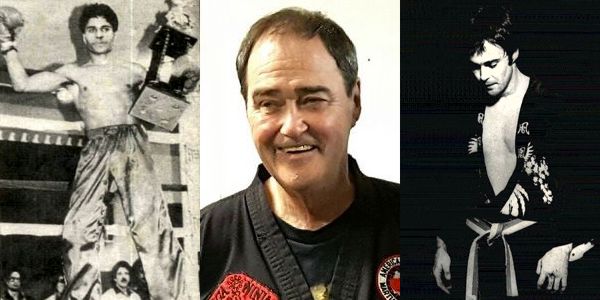 Professor Rick Wigginton is one of the nation's highest ranked martial arts masters and one of the foremost weapons and defensive tactics trainers. As a consultant and trainer of unarmed and armed defensive tactics, non-lethal and lethal force, security and executive protection consultant, operative and trainer, his clientele reads like a who's who and has included members of:
U.S Treasury Dept. Firearms Instructors
U.S. Secret Service Training Director & Presidential Security Detail
Drug Enforcement Administration
U.S. Justice Department U.S. Border Patrol
Bureau of Immigration & Naturalization Service Special Agents, Defensive Tactics & Firearms Instructors
U.S.M.C. Inspectors & Instructor Staff
U.S. Army Special Forces
International Police Training Association
International Practical Shooting Co-federation
Federal Firearms Instructors
State & Municipal Police, Correctional, Parole & Court Officers
U.S. Army Intelligence: Office of Naval Intelligence.
As a lecturer and demonstrator Rick Wigginton personal appearance include:
Madison Square Garden
The Felt Forum
The Manhattan Center
Sunnyside Gardens
Nassau Coliseum
The Philadelphia Civic Center
The Spectrum
Center for the Performing Arts
The Berean Institute
The Haranbi Institute
University of Illinois
Temple University
Villanova University
U.S. Naval Hospital, Philadelphia, PA.
U.S. Army Hospital, Valley Forge, PA.
Veterans Administration Hospital, Coatesville, PA.
Philadelphia Center for Gymnastics and Martial Arts
Rick Wigginton appearance include numerous events hosted by:
Jim L. Morell
Charles Davis
Roberts B. Mac Ewen, Jr.
Will Daniel
Robert Benson
Frank Barrier
Nathaniel Sparrow
Robert Teller
Timothy R. Robinson
and others
Rick Wigginton Television appearances include:
ABC's Wide World of Sports
Hudson Valley Today
The Way of the Warrior
and various news features.
Professor Rick Wigginton has been a professional published author and contributing editor since 1973. Rick Wigginton has articles, commentaries and interviews that span seven publishing groups, numerous magazine titles, specials and various newspapers.
Professor Rick Wigginton has a background in martial arts and related fields that spans 47 years. Rick Wigginton has served as Executive Vice President for a major martial arts organization, National Director of a second and Founder-Director of a third.
1992: Designed, engineered & developed "The Liberator" defensive flashlight adapter & training programs.
1988: Defense Science Institute (DSI) Established.
1983: Founder & Director: American Asian Martial Arts Federation (AAMAF) Dai-Nippon Ju-Jitsu Kai.
1983: Mokuroku Shihan: Koga-Ryu Shinobi-No-Jutsu (Ninjutsu)
3/9/82: Kyoju (Professor) Japanese Martial Arts/Ways Bugei/Budo
5/5/82: Doctor of Philosophy: University of Oriental Philosophy of the Asian Martial Arts
1/24/83: Mokuroku Kaiden: Daiken Kempo
1/24/83: Mokuroku Kaiden: Okugi Ryu Aiki-Jutsu
1/5/82: Menkyo Shihan: Oikiru Ryu Kobu-Jutsu
2/1/82: Hachidan Hanshi 8th Degree Black Belt: Oikiru Ryu Aiki-Ju-Jutsu: Hombu Division Head: Senior International Master Instructor
5/5/82: Shichidan Shihan 7th Degree Black Belt: Oikiru Ryu Kempo Jutsu
2/18/82: Godan Shihan 5th Degree Black Belt: Oikiru Ryu Kempo Jutsu
3/9/82: Godan Shihan 5th Degree Black Belt: Goju Kempo Karate-Do
9/11/82: 1st Master's Seminar: International Police Academy Monadnock PR-24 baton certified
8/30/82: Hanshi Master Teacher United Kenpo Association
7/11/74: Godan Renshi 5th Degree Black Belt: American Bushido Martial Arts Federation: Executive Vice President
1974: Gold Medal Weapons Grand Champion: All Japan Karate-Do Federation Tournament: Students captured Silver & Bronze
6/1/72: Yondan Renshi 4th Degree Black Belt: American Bushido Martial Arts Federation
5/23/71: Sandan 3rd Degree Black Belt: American Bushido Martial Arts Federation
1970-71: Kyokushinkai-kan Karate-Do Nakamura Sensei
1971: Chito-Ryu Karate-Do All Japan Karate-Do Federation: Dometrich Sensei
1969-70: Shotokan Karate-Do Shuto Karate Club: Rabouin Sensei: East Coast Karate Association-Okazaki Sensei:
1971: Shodan 1st Degree Black Belt: Nihon Honbu Aikido McGuire AFB Aiki-Kai: McGuire AFB Judo Club: Decker Sensei
1969: USMC Representative National Open Karate Championships USMC Close Combat Instructor Judo: Aikido: Kempo: Chen-Na: Chi-Chi-Ssu: Troi Sensei Hakkoryu Ju-Jutsu: Kondei: Gakko Kempo: Kobu-Jutsu: Koga Ryu Nin-Jutsu: Duncan Sensei
1966: Shodan: Combat Ju-Jutsu: Williams Shoto-Kai & Shorin-Ryu Karate-Do: Sergeant B.J. Wall & R.P. Best Sensei(s)
1958: Began Ju-Jutsu, Close Combat & Weapons training: Williams Sensei
Rick Wigginton is a member of:
Veterans of Foreign Wars
American Legion
A Former Marine Corps League Officer
Legion of Honor Recipient Chapel of The Four Chaplains
National Rifle Association
Veterans Administration Voluntary Services
Rick Wigginton has received numerous awards for contributions to veterans:
1996: Detective's Endowment Association Police Department City of New York
1995: 1996: The Honor Legion Police Departments State of New Jersey Honorary
1995: The Honor Legion Police Department City of New York
1995: New York State Fraternal Order of Police Empire State Lodge, Inc.
Rick Wigginton Sanctions by members of the:
National Association of Chiefs of Police
International Training Commission for Law Enforcement Defensive Tactics
International Board of Criminology.
Rick Wigginton Military Service:
U.S. Marine Corps 1966-70: Rank: Sergeant
U.S. Marine Corps Reserve 1970-75: Rank: Permanent Staff Sergeant
Acting Gunnery Sergeant
Rick Wigginton Marine Corps Institute Graduate in:
Tactics of the Marine Rifle Squad
Infantry Battalion Organization, Communication & Crew Served Weapons
Individual Protective Measures
Operations Against Guerrilla Units
Counter Insurgency & Counter Terrorism
Land Mines & Booby Traps
The Marine NCO
Nuclear, Biological & Chemical Warfare
Rick Wigginton Small Arms Expert in:
U.S. Pistol .45 Cal.
M1911A1
U.S. Rifle 7.62 MM M-14
U.S. Rifle 5.56 MM M-16
U.S. Rifle .30 Cal. M-1
Rick Wigginton Graduate of:
Hackathorn's Advanced Tactical Handgun June 1988
PPS Select Fire Submachine Guns Sept. 1988
Rick Wigginton Firearms Specialist:
Defensive Handgun
NRA law enforcement pistol & shotgun expert
Close Quarter Lethal Force Survival & Application
Rick Wigginton Security & Executive Protection Consultant, Operative, Trainer Clients Have Included:
Grammy Award Winner Grover Washington, Jr.
Disco Star Evelyn "Champagne" King
Celebrity Manager Lloyd Zane Remick
Record Producers & Music Publishers Bunny Sigler & Theodore Life
Excalibur Associates
Zane Management Corp.
Falcone Motors
Franklin Contractors
Rick Wigginton trained personnel have served in a variety of security & executive protection capacities for such celebrities as:
Frank Sinatra
George C. Scott
John Travolta
The Osmonds
Rick Wigginton various corporate accounts include:
General Electric
Mac Neil Laboratories