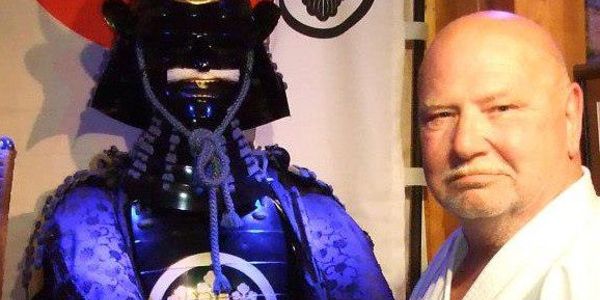 The Warrior
Today has been a long, sad, difficult but inevitable day. At just before 9pm on Friday evening (January 27, 2015), my dad, mentor, guide, guardian, protector and best friend passed away. I hope he is resting in peace. Love you dad – miss you xx ~ Andrew Colwell
The Dictionary of Martial Arts [Louis Frederic – The Athlone Press] defines the term
BU-JUTSU – warrior techniques or techniques of combat used by the warriors of ancient Japan, whose aim was to achieve maximum effectiveness in warfare
I couldn't find a clearer definition of the approach of Ronnie Colwell to martial systems. As he himself puts it "the warrior is there to do a job, there is no time or room for the superfluous on the battlefield. Some of the modern gymnastics that gets added to the fighting systems these days would get you killed when it came time to really be tested."
As a recognized 9th Dan in the arts of Karate-do and Ju Jutsu, Ronnie spent a lifetime pursuing knowledge on fighting systems throughout the world. Ronnie's CV is impressive including British military service, professional bodyguard, martial arts instructor to European and Middle Eastern royalty and special forces instructor.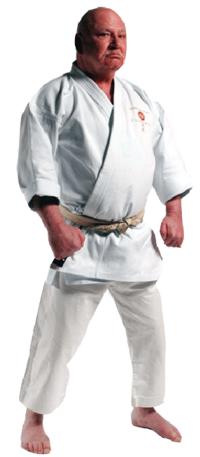 As a legendary figure in British Martial Arts. He is one of the founding fathers of British Karate and British Ju Jutsu. Indeed he held the post of first Chief Instructor to the British Ju Justsu Association, the governing body for Ju Jutsu in the UK.
Mr Ronnie Colwell was:
President of the JAPAN INSTITUTE
President of the SEI-BU-KAN KOKUSAI KYOKAI
President of the SEN-NO-SEN KARATE and JAPAN CULTURE INSTITUTE
President of the MIYAGI SCHOOL OF GOJO RYU KARATE, SOUTHPORT
President of the KOKUSAI KOBUJUTSU JYU JUTSU KORYU KYOKAI
President of the SHOTOKAN KARATE SCHOOL of MALTA
President of the LIVERPOOL FREE STYLE KARATE ASSOCIATION
President of the MUSHINKAI
Technical Advisor for Kobudo to COMBAT MAGAZINE
Technical Advisor to Martial Arts Illustrated.
Colwell's life was been spent in the study of the martial systems of Japan. From the time he was a young boy in the back streets of Liverpool until he passed away, Ronnie Colwell was tirelessly devoted to pursuing excellence. A renowned International instructor, Colwell taught throughout the world. He was known as a very direct and straight talking budoka who didn't suffer fools gladly. In Colwell's own words "I live my life as I train, always getting straight to the heart of it. Life is too short to waste on superfluous or wasted action. This is as true in the dojo as out of it.
Ronnie Colwell was also color blind. He taught anyone any time without thought of race or creed, a difficult task during the Toxieth Riots in 1981 in inner-city Liverpool.
Ronnie Colwell passed away on February 27, 2015 leaving those he loved to carry on his torch.
We have lost a military and martial arts legend, but much more than that, we have lost the man – a man of deep honor and irreproachable integrity. His legacy will be carried out with respect and loyalty by all of those whose lives he touched the most. ~ Andrew Colwell
An interview with Ronnie Colwell