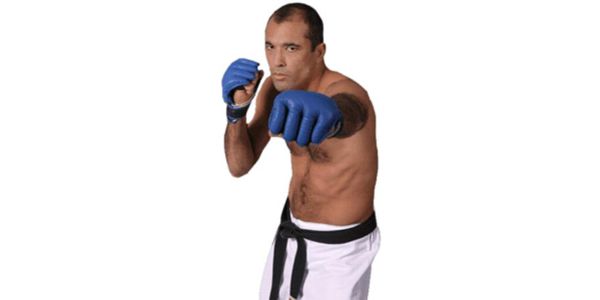 Royce Gracie was born in Rio de Janeiro, Brazil, one of nine children, seven of whom are boys. His training in Jiu-Jitsu began at a very early age as a game with his father Helio. Helio never pushed any of the children to take formal classes until they wanted to do so, however they often went to the Academy in Rio after school and on weekends.
Royce Gracie began competing in tournaments at age eight. He received his blue belt at age 16 and was promoted to black belt in less than two years. Royce moved to the United States at age 18 to live with his brother, Rorion. They began teaching private classes out of their garage, sometimes for more than ten hours a day. Rorion and Royce opened the Gracie Jiu-Jitsu Academy eleven years ago in Torrance, California. Today it is one of the largest martial arts schools in the country.
Royce's reputable career as a fighter began in 1993 after defeating three opponents in the first Ultimate Fighting Championship.
His brother Rorion came up with this innovative challenge as a way to show Gracie Jiu-Jitsu to the world. Discipline after discipline was defeated by the slight 6'1″, 180 pound Royce Gracie.
His opponents consistently outweighed him by more than 50 pounds. He went on to win 3 UFC titles and today is the only man in the history of no holds barred matches to successfully defeat four opponents in one night.
Royce Gracie is still very active in the fight world with the longer MMA match in history 90 min against Japanese Superstar Kazushi Sakuraba in PRIDE Grand PRIX 2000, and total domination of the Olympic Judo Gold Medalist Hidehiko Yoshida in PRIDE Shockwave 2003.
Royce Gracie largest opponent yet was Sumo Grand Champion Akebono, 6′ 8″ 486lbs. Royce vs. Akebono was the main event of K-1 Premium Dynamite New Years Eve show on 12/31/2004. Royce defeated the giant in just 2min and 13sec with a shoulder lock. Royce?s success has opened the eyes of many disbelievers to the importance of leverage and technique in grappling. In November of 2003, Royce Gracie was the first fighter to be inducted into the UFC Hall of Fame along with fellow UFC veteran Ken Shamrock.
The legend of the Gracie family began in Brazil with Royce?s father, Helio Gracie. Today Royce is privileged to spread the techniques perfected by his father all over the world. Throughout his busy fighting career Royce has maintained a rigorous travel schedule of seminars and classes.
Royce Gracie list of students is enormous. Royce has taught many of the big screen greats like Chuck Norris, Ed O?Neal, Guy Ritchie and Nicholas Cage. He has also been very active with the CIA, FBI, DEA, Secret Service, Army Rangers, Army Special Forces, Navy Seals and many sheriff and police departments.
Royce Gracie makes his home in Torrance, California with his wife, Marianne and three sons, Khonry, Khor and Kheydon. He maintains an impressive training regimen, which includes running, weight training, cardiovascular activity, meditation and countless hours of Gracie Jiu-Jitsu. He is always up to the challenge and eagerly awaits his next fight.