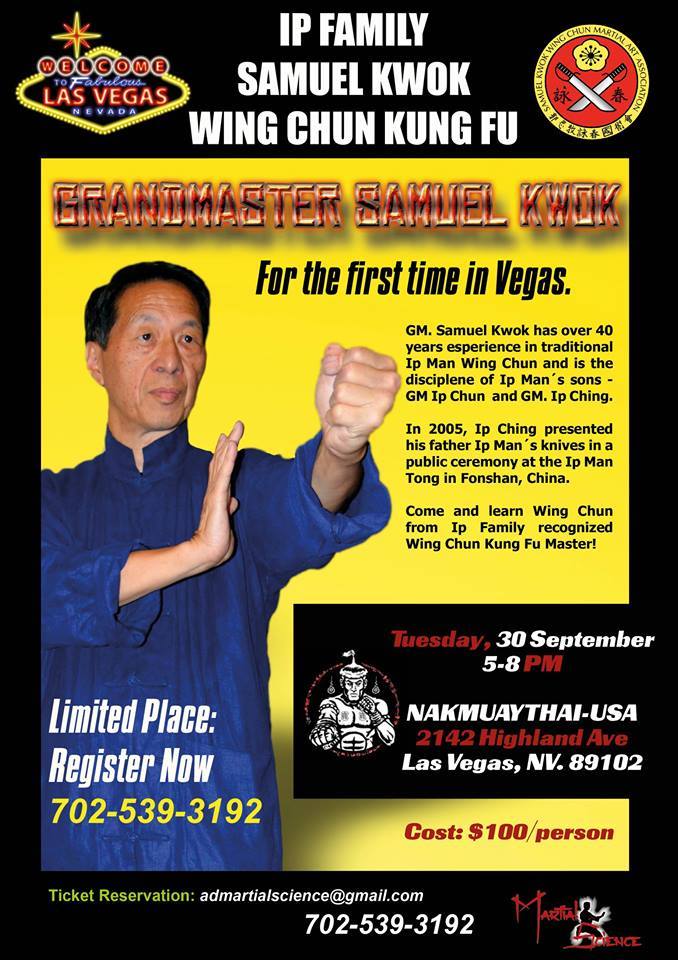 Grandmaster Samuel Kwok will be teaching the first Ip Family Wing Chun Kung Fu seminar in Las Vegas, Nevada on Tuesday, September 30, 2014 from 5:00 to 8:00 at NAKMUAYTHAI-USA. The school is located at 2142 Highland Ave., Las Vegas NV. Places are limited so register now by calling 702-539-3192 or email admartialscience@gmail.com. This event will be covered by Martial Science Magazine. DON'T MISS IT!!!
Grandmaster Kwok has over 40 years experience in traditional Ip Man Wing Chun Kung Fu and is the disciple of Ip Man's sons GM Ip Chun and GM Ip Ching.
In 2005 Ip Ching presented his father Ip Man's knives to Grandmaster Kwok in a public ceremony at the Ip Man Tong (Museum) in Fonshan, China. Come and learn Wing Chun from the Ip Family recognized Wing Chun Kung Fu Master, Grandmaster Samuel Kwok!