Last night in our advanced class I told a story about Coach John Wooden. John Wooden was voted the greatest coach in the history of American athletics by Sporting News magazine. He coached basketball at UCLA here in Southern California. His teams won a record 10 NCAA National Championships. Living here in Southern California, I grew up watching UCLA win year after year.
Coach Wooden has had a tremendous effect on my career as a full time karate instructor as well as how I live my life. The book "Wooden on Leadership", in my opinion is the greatest book ever written about being a good karate teacher even though the word karate is never mentioned.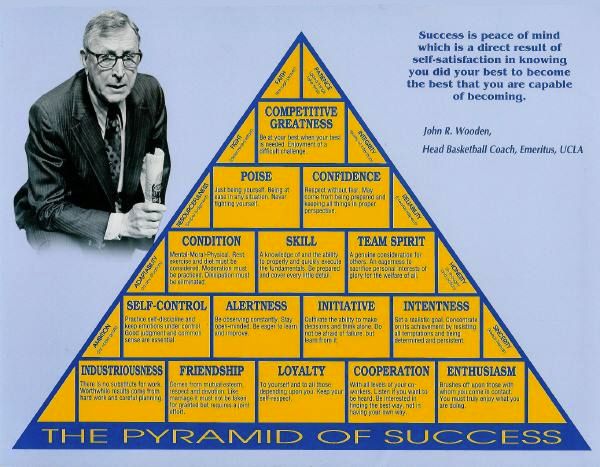 It took the coach 40 years to develop The Pyramid of Success and we have had it posted at our school since we opened in the 1970's. Posted around the walls of our schools are the virtues of the Pyramid and often I will take our students around the room and we go over the virtues like INDUSTRIOUSNESS, ENTHUSIASM, POISE, CONFIDENCE, etc.
Later in Coach's life he mentioned that there was one word he left off of the Pyramid and if he were to change anything on it he would be to add the word "love".
The word "Do" in martial arts means "the way". I have always thought that "the way" is constantly seeking improvement. We never get to be perfect but we can always improve. One of my favorite quotes by Cervantes is "The road is greater than the inn."
Andy Hill, former President of CBS Entertainment who was responsible for television shows like Walker, Texas Ranger and Touched by an Angel, played for Coach Wooden at UCLA. One day Andy told me a story. Andy said that he was driving with Coach after a book signing event and Coach looked over at him and asked, "Andy, have I ever told you how much I love you?" Andy said he about drove off the road because Coach was not like that. He was from the mid-west and was not known for outward displays of affection. Andy said he pulled over and stopped the car. He looked at Coach and told him, "No, you never have, but I can't tell you how much it means to me to hear you say this." Coach looked at him and said, "Yes, it is something I am working on." Coach Wooden was 98 years old when he made this comment. To me it drives home the fact that seeking improvement in life and in martial arts is a continuous journey as we work on the areas that need attention. I believe this journey makes us better martial artists, better husbands, better friends, better Christians, better people.
If you would like to enjoy more of what Bob White has to share about life and coaching martial arts you will love his DVD,
The Elements of Effective Coaching
. Learn more about the methods that have enabled him to work as a beloved full time karate instructor and school owner for over 40 years. (
More Info
)