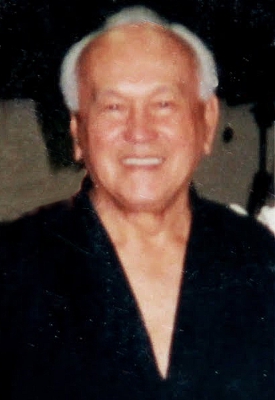 Prof. Sig Kufferath (Siegfried (Pippet) Kufferath) was born February 16, 1911 in Honolulu, Hawaii. He was the second youngest of 11 children born to C. Th. Kufferath and Shin Hori Kufferath. Prof. Kufferath's father was attached to the German Consulate in Tokyo, Japan for 26 years, seven of his brothers and sisters were born in Kobe. One brother was born in Tasmania and another sister was born in Berlin. Prof. Kufferath and his younger brother Arnold were born in Honolulu.
A former quarter miler track star at McKinley High School in Honolulu, and the University of Hawaii, Sig Kufferath was three time Hawaiian A.A.U 440-yard track champion in the late 1920's and early 30's. He also worked many years as an auditor for the City and County of Honolulu.
Jujitsu Master
Prof. Sig Kufferath was a Master of the art of Jujitsu. He began his study of Jujitsu under Prof. H.S. Okazaki in 1937. He earned his black belt in 1941 and became an instructor in 1942, where upon he organized his own Jujitsu club Nikko at the Kaheka Lane Judo School in Honolulu.
Under Okazaki, Sig Kufferath studied Chinese stick arts, Kiai, (Internal strength) Karate Jitsu, Nerve arts, Shingen No Maki and Shinyo No Maki (special lists of self-defense arts) and further studied Naihan No Shodan and Kumite (Kenpo Jujitsu Arts). This was in addition to all the kata (standard) arts of Danzan Ryu (Hawaiian School). He graduated from Okazaki's Nikko Restoration – Sanatorium Seifuku Jitsu (Japanese Physical Therapy) course in 1943. It was customary for a Jujitsu instructor to be well trained in the healing arts too. Prof. Kufferath used to accompany Prof. Okazaki on his house calls to help him treat patients.
In April of 1944, Prof. Sig Kufferath was inducted into the U.S. Amy. After completing basic training he was assigned to Special Services and taught hand-to-hand combat in Hawaii. This came about after he had defeated the current hand-to-hand combat instructor when confronted by him during training. Prof. Sig Kufferath was honorably discharged in 1946; he resumed his Jujitsu Classes at Kaheka Lane School.
Prof. Okazaki appointed Prof. Sig Kufferath Chief Instructor of his main dojo (school) the Kodenkan in 1949. In February of 1948 Okazaki had given the title of Shihan (Master) to Sig Kufferat, via a certificate called "Kaidensho", or Full Transmission and Mastery", others also received this certificate. After Okazaki's death in 1951 Prof. Sig Kufferath was formerly elected by the board of directors of the AJI, (American Jujitsu Institute), founded by Okazaki in 1939, to succeed Okazaki as head and Professor of Danzan Ryu Jujitsu. This became official October 6,1953. In addition to Jujitsu he began practicing Judo and Aikido in the early 1950's. He earned his black belt in Kodokan Judo (1956) ad Aikido (1965).
Moved to California
In 1957 Prof. Kufferath left Hawaii and the American Jujitsu Institute for California. He settled in The Willow Glen area of San Jose. Prof. Kufferath took a position in the accounting department of Dole Company, working there until retirement in 1976. He continued his teaching of Jujitsu at Pacific Judo Academy in San Jose. In 1960 he began teaching classes at the Los Altos Parks and Recreation Department and founded the Los Altos Akijitsu Dojo (School). He moved his residence to Santa Clara a year later.
In 1964 Prof. Kufferath and a student at Los Altos Recreation opened Nikko Jujitsu School in Mountain View, California where Prof. Kufferath became Chief Instructor. Many people young and old over the next 30 years studied under Prof. Kufferath or received restorative physical therapy treatments from him at Nikko in Downtown Mountain View. Prof. Kufferath taught Jujitsu at Nikko until 1995. During this period at Nikko Prof. Kufferath also began teaching self-defense classes for the Santa Clara Parks & Recreation Department in 1970. These classes are still taught today.
In 1973 Prof. Kufferath and a former student from Nikko opened yet another school called the Kodenkan Jujitsu School located in Santa Clara, where Prof. Kufferath taught to this day. At the Kodenkan Prof. Kufferath taught many courses, including 18 years of certification Courses in Restoration Therapy, special black belt instructor classes (Okugi) and seminars on Jujitsu and Restoration Therapy around the country.
In 1988 Prof. Kufferath began teaching at the Pacific Coast Association of Kenpo Jujitsu in Campbell, CA. where he also continued his Courses in Restoration Therapy and special black belt instructor classes. In 1996 Prof. Kufferath helped organized and became founder of the Pacific Coast Kilohana, a Jujitsu organization. Prof. Kufferath has also taught there to this day.
Some of the honors bestowed upon Prof. Kufferath over the years include:
Living Arts Treasure for Total Life Commitment to Martial Arts January 15, 1995
World Head of Family – Sokeship – March 2,1995
Hall of Fame Danzan Ryu Jujitsu by Ms. Imi Okazaki Mullins (Daughter of Prof. Okazaki)
Kodenkan Yodanshakai Tucson, Arizona – 10th Degree Black Belt Sept. 4,1988
Jujitsu America 10th Degree Black Belt September 12,1987
Goshin-Jitsu Chow Hoon 60 years of Excellence 1995
International Chinese Kenpo 10th Degree Black Belt – awarded as a testimonial that Prof. Kufferath has set an excellent example to students during courses given. October 8, 1994.
In The Spirit of Aloha
Prof. Sig (Pippet) Kufferath lived his first 46 years in Hawaii and his last 42 years in California. Pippet would go home at least once a year to his native land. He was truly a remarkable man always seeing the good, patient and always training to better himself both physically and spiritually. Pippet once said "The best thing about my Jujitsu career is all of the friends I have made over the years" and these friends will truly miss him.
Prof. Siegfried (Pippet) Kufferath
Born: February 16,1911, Honolulu, Hawaii
Died: May 7,1999, Santa Clara, California