By Cecily Barnes Saratoga News ~ Saratogan Cordelia Clancy saw a need for a serious self defense program and did something about it. Three years ago she founded Concrete Jungle, which teaches skills and techniques traditionally taught only to special service agents, bodyguards and the military.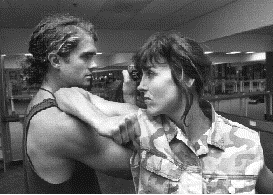 Clancy, 29, calls Concrete Jungle a self-defense class for the decades.
"Our philosophy is mess him up before he messes you up," she explained. "If you're going to teach women to fight back, you'd better do it right or they're just going to get hurt worse."
Clancy established Concrete Jungle from her Saratoga residence three years ago, teaching her first classes at West Valley College. She started teaching after reading a story in the newspaper about two teenage girls who were abducted from a 7-11, raped and thrown off a bridge. The girl who survived, Clancy remembered, had said she felt completely helpless and unable to do anything but beg for her life. And the man merely laughed and threw her and her sister off the bridge like rag dolls.
"That was such a powerful and sad story for me; it motivated me to teach this stuff," Clancy said. "When you're up against that mentality, you can't be doing the job halfway. You have to take the person out. They have no respect for your body or your life."
Using her extensive background in martial arts, bodyguard training and various other defense tactics, Clancy constructed Concrete Jungle from the South Korean martial art Tukong Moosul, used in jungle warfare military training.
Concrete Jungle was designed as a serious alternative to more traditional self-defense programs, which Clancy feels give people a false sense of security.
"A lot of the courses out there should be called 'How to Irritate Your Attacker.' They just don't go far enough in showing you what to do," Clancy said. "Like off a strangle, they show you how to break a pinky. If someone's trying to strangle you, that's a rage crime. You can be sure they've got their adrenaline going. Breaking a pinky is only going to piss them off. Off a strangle, we show you how to gouge the guy's eyes, and if you do that, you can be sure he'll stop."
And while it might sound as if Clancy's an underground member of the militia, she and her partner Mark Wightman consider themselves pacifists, but realistic pacifists.
"Knowing this stuff doesn't mean you're violent; it just means you're equipped to survive," Clancy explained. "We're vegetarians. We save bugs from the swimming pool. We don't even like violent movies. We don't like violence, but what we teach is a necessary survival skill of the '90s."
Clancy teaches her students how to use improvised weapons, everyday items that look harmless but can be as deadly as a gun.
She demonstrates how to collapse a trachea with a notebook and to stab an assailant's throat with a pen.
Students learn precautionary safety, risk reduction and what to do if they're actually attacked. And for the last class and final exam, students are jumped by their gear-protected instructors in a simulated attack, and forced to beat them off as they would a real attacker.
"And we don't let up until they've attacked our vital points and taken us out, until they've finished us off," Clancy said.
Clancy sees the final evening's feigned attack as one of the program's most beneficial aspects.
"It's very important that they actually experience this; that way, they don't go into shock if it actually happens," she explained. "They take some knocks in the class, and that's important, too, that they get conditioned. That way they won't go into shock if they take a knock on the street."
Clancy and partner Wightman take some knocks, too, by encouraging their students to really go for it.
"I've had my nose broken twice through the helmet, and once I tore my knee," Clancy laughed. "And Mark got a severe whiplash."
They've also suffered numerous bruises, minor black eyes and fat lips. But they say the inflictions couldn't please them more because they show that the students are truly learning to protect themselves.
Those who have completed the Concrete Jungle class series seem very happy with the skills they've learned.
"I can't live in a bubble and think that nothing will happen to me," said 18-year-old Concrete Jungle student Shayni Blanchard. "This class prepared me for the worst thing that may or may not happen."
Shayni just graduated from Saratoga High School and will attend UC-Santa Barbara in the fall. Both she and her mother are glad she learned these skills before leaving the safe nest of her parents' Saratoga home.
Concrete Jungle has taught self-defense skills to students from all walks of life, including corporate workers, battered women, teenagers and young children. The youngest age group she taught was 10- to 14-year-olds at West Valley College.
"The kids were scared; they were talking about Polly Klaas. I think they were grateful that someone was teaching them something that could save their lives one day," Clancy recalled. "I think it's very sad that we have to teach children this young that stuff. I'd rather teach songs at campfires."
Clancy feels the techniques and skills she teaches at Concrete Jungle are imperative. Her mentality is: Protect yourself in any way necessary, even if it means seriously injuring your attacker.
"If you're about to be raped or severely beaten or killed, you have to go on the offensive and mess the person up before they mess you up. That's what it takes if your life is on the line."
And since the Tukong Moosul Black Belt can't be everybody's bodyguard, she is teaching others how to protect themselves.
This article appeared in the Saratoga News, September 11, 1996.
©1996 Metro Publishing, Inc. All rights reserved
For more information on Concrete Jungle Self Defense, contact Cordelia Clancy at 408-242-3806 or visit her web site at
Concrete Jungle Self Defense
Cordelia Clancy is an Executive Protection Specialist (Bodyguard) and a black belt instructor in Tukong Moosul, the martial art used to train elite South Korean Special Forces. She writes instructional articles for Black Belt and Karate Kung-Fu Illustrated – two of the top martial arts magazines in the world. Clancy created Concrete Jungle Self-DefenseT to train people how to become their own bodyguards. She now trains people from all walks of life, from students to military personnel, from corporations to government agencies.
Self-Defense Tips from Cordelia Clancy