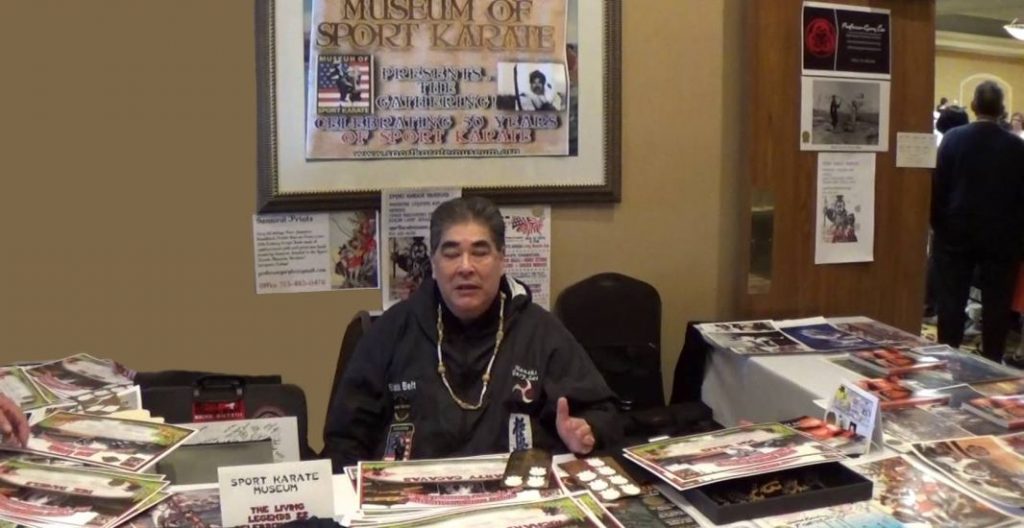 Duane Ethington made a speech about the success of sport karate and the Sport Karate Museum and our desire to save our history.
We've come a long way, babe!
From the spawning of the very first dojo in America through the britches-busting youthful exuberance of the Texas blood and guts era and into today's strapping grown-up rambunctious version, Sports Karate has become a rousing success. But how did it arrive at this point and why has it been so successful?
A very few realize that martial arts in America began way back in 1848 with the arrival of the Chinese Coolies who were brought in to work on the railroads. These "imports" secretly practiced versions of Kung Fu.
Then came judo, introduced by Yoshiaki Yamashita in 1902 and Kali in 1907 by Jack Santos. In 1921 America got its first wide-spread exposure to oriental martial arts in a movie called THE OUTSIDE WOMAN. Throughout the years every other aspect of martial arts has been brought to America's shores.
Closer to home, perhaps, after Mas Oyama traveled in 32 states giving his famous demonstration of chopping the horns off live and charging bulls, Robert Trias became the first documented Caucasian to open a school in America. He opened in Phoenix, Arizona in 1946 and founded the United States Karate Association the next year. Collegiate judo flourished and Edward Kaloudis introduced karate to the east coast about the same time that Ed Parker was bringing Kenpo to Provo, Utah.
Master Trias held the first organized tournament in 1955 and Korean Jhoon Rhee opened shop in San Marcos, Texas. Rhee's class, which spawned legendary Allen Steen, the father of Texas karate, was probably the beginning of the blood and guts era.
J.Pat Burleson became the first National Karate Champion and Allen Steen made martial arts history by defeating Chuck Norris and Joe Lewis, back to back at Ed Parker's International tournament in 1966. It was a feat never before accomplished.
Other greats across the nation were making their marks, as well. Thomas LaPuppett, Louis Delgado, Don Nagle, George Mattson, S. Henry Cho and Peter Urban were leading the east coast while, Ed Parker, Chuck Norris, Joe Lewis, Steve Armstrong, Bob Wall, Bong Yu, Ernie Reyes, Bruce Lee and Mike Stone, who was perhaps the greatest tournament competitor of all time were handling things nicely on the west coast.
Texans were dominating wherever they appeared. Skipper Mullins, David Moon, Chuck Loven, Fred Wren, Roy Kurban, Demetrius Havanas, Harold Gross, Jim Harkins, Jim Miller, James Butin, Ed Daniels and Linda Denley were putting their special stamps on the sport that would stand for all time.
Texans, though, weren't the only pioneers as Mike Stone, Jim Harrison, Ken Knudson, Joe Lewis, Benny Urquidez, Ernie Reyes, Bill Wallace, Howard Jackson, Bob Wall, Joe Corley, Keith Vitali, Glenn Keeney, Roger Carpenter, Jerry Peddington, Steve Fisher and Pat and John Worley along with Jeff Smith and Ron Marcini were elevating the sport in their respective areas.
Fighters, though, weren't the only ones to make their marks and perpetuate this ever-growing, strapping youth known as Sport Karate. Magazine editors, writers and promoters all had a hand in making the sport an elite entity. Mito Uyhara, Howard Hanson, Renardo Barden, Al Weiss, John Corcoran, Mike Anderson, Emile Farkas, Duane Ethington, Gary Lee, Fumio Demura, Keith Yates, Curtis Wong, Ken Knudson and many others kept the sport growing and in the public eye.
Hollywood did its part, too. Great Martial artists like Bruce Lee, Bong Soo Han, Chuck Norris, Jean Claude Van Damme, Dolph Lundgren, Philip and Simon Rhee, James Cagney, Yul Brynner, Jackie Chan, Howard Jackson, Tom Laughlin, Benny Urquidez, Mike Stone, Steve Fisher, Sonny Chiba, Jet Li, Tadashi Yamashita and Bob Wall lent their particular expertise to filmdome.
Non-martial artists, too, portrayed martial artists. People like Eric Roberts, Sean Connery, Wesley Snipes, David Carridine, Ralph Maccio, Pat Morita and many others were involved.
The great ladies of the sport, too, cannot be overlooked. Graciela Casillas, Linda Denley, Phyllis Evetts, Joy Turberville, Jenice Miller, Malaia DeCastos, Karyn Turner, Charlotte Hoffman, Marion Bermudes, Cynthia Rothrock, Arlene Limas, Lana Hyde, Barbara Nagel, Mary Ann Corcoran and so many others lent beauty and grace to the sport.
Countless others must be recognized, as well. The Raymond McCallum's, Troy Dorsey's, Tim Kirby's, Sean Ethington's, Mark Wendell's, Ishmael Robles', James Toney's, Mike Proctor's, Shannon Harvey's, and Lio Zapata's have all helped to pave the way.
Now here we are. A big, strapping, much admired, talented and here-forever young stalwart who is just about to get our own History Museum and Library and take our rightful place in the world of sports forever more.
From the top of the workhorse chain – the Gary Lee's and Shawn Flanagans' – to all the countless people who contributed what they could here and there, American Sport Karate could not and would not BE without you.
A heartfelt thank you and OSU.
Duane Ethington