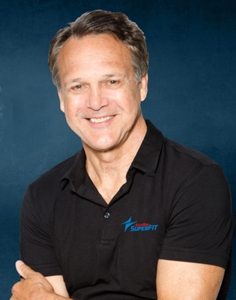 Steve Sheperd is a legend in the world of kickboxing. He is a 5 time, 4 weight division world kickboxing champion who ended his career with a record of 49 wins, 4 losses and 2 no contest. He defeated international champions from Canada, Japan, Australia, Europe, and Asia, and defeated world champions in 7 separate weight divisions and was voted pound for pound the greatest fighter in the world in 1980, 1981, 1982 by Official Karate Magazine. He along with fighters like Jean-Yves Theriault, Brad Hefton, Jerry Trimble and others were the first stars of kickboxing when it became a new regulated sport and helped revolutionized the sport, taking it from small market special interest, to international recognition.
After hanging up his gloves and footpads, Steve trained, managed, and promoted over 200 state, golden gloves national and world champions, amateur and pro, boxing and kickboxing fighters. He promoted boxing and kickboxing on National and International levels. In 1990, he promoted USA versus the Soviet Union, which included Vitale Klitchko, who in 2005, retired as the World Heavyweight Boxing Champion. In 1995, promoted USA versus Russia for the second time.
Steve Shepherd is the founder and President and CEO of Ringstar Products®. In 1979, he created the Ringstar name, establishing Ringstar Promotions from 1979 – 1999, overseeing more than 100 events. A true martial arts renaissance man as competitor, trainer, manager, promoter, and successful school owner for over 25 years Shepherd's Boxing & Kickboxing Center, an internationally renowned training facility, boasted a multitude of world champions, including Andrew Golota, Michael Moorer, Oscar De La Hoya, Fernando Vargas, Kassim Ouma, Zab Judah, Don "The Dragon" Wilson, Bill "Superfoot" Wallace among many others.
In the mid 90's, amid his involvement in the careers of many up and coming fighters, Steve began to see the need to improve on faulty designed martial arts equipment. He began to develop a shoe that would replace the conventional footpad, which was prone to twisting on the foot during sparring, distracting fighters at the most inopportune times, not to mention inadequacies in hygiene and protection against broken toes. What eventually resulted was the first and only shoe ever sanctioned and approved for competition.
Steve Shepherd is an inductee into the Florida Boxing Hall of Fame, Class of 2017, held on June 23-25, 2017 at the Westshore Grand Hotel Tampa, Florida.
For more info on Ringstar Products® go to https://ringstargear.com/