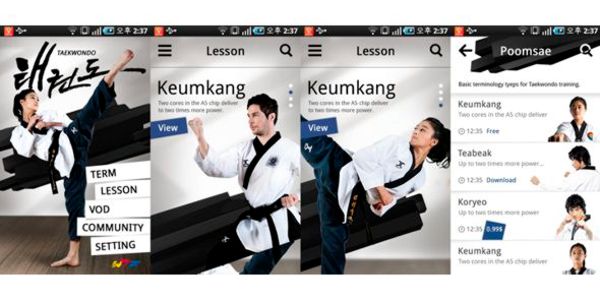 Official World Taekwondo Federation Taekwondo.Lesson Mobile App Teaches Users How to Master the Art of Taekwondo through Terminology, Diagrams and Videos.
SUNNYVALE, Calif. – September 18, 2012 – SK Planet today announced the launch of Taekwondo.Lesson, a free mobile app that teaches iPhone and Android users everything there is to know about the martial arts form. By walking users through the terminology and basic postures of Taekwondo, beginners and experienced martial artists alike can refine their skills, learn new techniques and participate in a community devoted entirely to the appreciation of Taekwondo. Taekwondo.Lesson is the official app of the World Taekwondo Federation, drawing from more than 80 million registered members to populate the app with valuable and trusted content.
On a mission to help users understand the basics of the iconic Korean art form, the app offers a "Term" feature that gives users crucial insight into the foundational postures and motions of the art. Paired with audio clips and images of the postures, users can study the pronunciation and movement of the common terms and techniques often used in competitions. Users can also "favorite" a position or share it with friends on Facebook or Twitter. If users need additional help with an especially tricky technique, a "Help" button is conveniently placed next to each posture giving users extra insight into the desired position if needed.
Taekwondo enthusiasts from all over the world can now connect through Taekwondo.Lesson to discuss the martial arts form through its "Community" feature. The Taekwondo.Lesson community offers a wealth of knowledge for Taekwondo lovers to tap into 24 hours a day from anywhere in the world with tips, images, news, questions and answers regarding the martial art. Likable to it's own in-app social network, users can like, comment on or create posts to share with the community.
Taekwondo.Lesson has a "Lesson" video-on-demand feature that allows users to download and view videos authorized by the World Taekwondo Federation on the basics of Taekwondo, with a step-by-step text description accompanying each video. Users can select a video and share with friends through Facebook or Twitter.
Video-on-demand highlights make it fun and easy for users to learn from professional Taekwondo events such as the Olympics or the World Taekwondo Championships from within the app. Additionally, users can search for a specific video of interest by utilizing the video search feature.
In the coming weeks, Taekwondo.Lesson will support languages including Spanish, French, Chinese and Japanese in addition to the current availability in English and Korean. The app will also soon feature premium video-on-demand around more advanced Taekwondo motions.
Taekwondo.Lesson App Features
• Explanation of common Taekwondo postures, motions, terms and phrases
• Images of basic Taekwondo postures and motions
• Ability to mark a position as a "favorite" to reference later
• Ability to share postures, motions and videos through Facebook and Twitter networks
• Video-on-demand and step-by-step text descriptions of the basics of Taekwondo
• Video-on-demand of Taekwondo competitions
• Ability to connect with other Taekwondo.Lesson users through "Community" feature
Pricing and Availability
Taekwondo.Lesson is a free app available on Android, iPhone and iPad immediately at the iTunes App Store and Android at Google Play.
About SK Planet
SK Planet, a wholly owned subsidiary of SK Telecom, was established on October 1, 2011 with an aspiration to become a global platform innovator. As the lynchpin of SK Telecom's future growth, the company was spun off with the industry-leading platform businesses including T-Store, T-map, MelOn, Cyworld and hoppin, Korea's biggest mobile app store, mobile navigation, online music service, SNS and multi-screen premium video service. SK Planet is committed to building global platform business in Asia and other strategic markets. For more information, please visit https://www.skplanet.com/eng/main.
###
All trademarks and product names are the property of their respective companies.
~~~~~~~~~~~~~~~
FortyThree PR
Jasmine Castro
Jasmine@43pr.com
This App is no longer available.