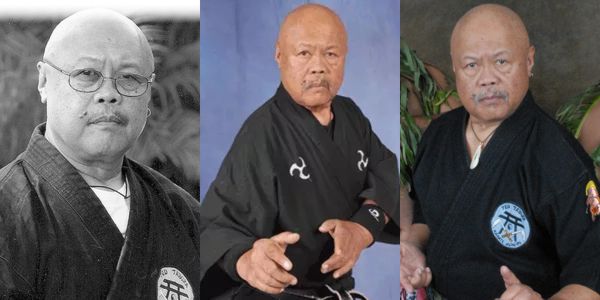 Born and raised in Hawaii, Shihan Tabura began his martial arts training under his cousin's tutelage in a backyard dojo. Later moving to Southern California, Ted discovered the Okinawa-te dojo headed by another Hawaii-born instructor, Shihan Gordon Diversola. While training at the Okinawa-te dojo, Tabura met John Louis (now deceased) who became his final instructor in Okinawa-te, then LimaLama. Sensei Louis ranked Tabura as a Black Belt in 1968.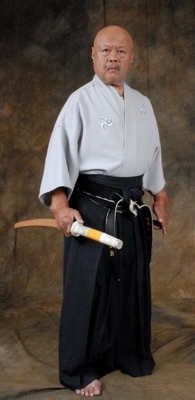 The martial arts has been a way of life for Ted Tabura and his family. There were many years of tournament competition where Tabura and his sons won trophies in their respective divisions. Tabura was dubbed 'The Sickle Man' by Sijo Adriano Emperado, founder of Kajukenbo, for his expertise in the use of the Japanese kama (sickles). That nickname stuck with Shihan Tabura for many years.
Shihan Tabura co-produced tournaments in Primm, Nevada and directed the annual Festival of the Kings Karate Championship in Maui, Hawaii. Shihan Tabura and Shihan Dan Sawyer were partners of the Primm, Nevada tournaments for the past 18 years. They started out at Don Laughlin's Riverside Resort Casino in the late 1980's and just recently moved to Primm. This tournament draws competitors from all the neighboring regions including Mexico. The 10th Festival of the Kings Karate Championship was held in July 2002 at the Westin Maui Resort. Competitors came from far and wide; some as far as New Zealand and Australia. On November 26, 2011, Shihan Tabura held his last Festival of the Kings at the Hilton Los Angeles/Universal City Hotel.
Rank:
8th Degree Black Belt – LimaLama System Founder – Grandmaster Tino Tuiolosega
9th Degree Black Belt – Kajukenbo System Founder – Sijo Adriano Emperado
Honors:
10th Degree Black Belt – Black Belt Society Grandmaster Robert Hoe Pioneer Award – Soke Black Belt Hall of Fame Pioneer Award – Pacific Rim Tour Organization Golden Fist Award – Outstanding Weapons Competitor
Publications:
Black Belt Magazine; Karate Illustrated; Official Karate; Inside Kung-Fu; Combat Magazine
Training Videos:
LimaLama – Panther Productions
Boken/Kubudo – Black Belt Masters
Film/TV:
Big Trouble in Little China, Little Ninjas, Hardcore/Greatest American Hero, Knight Rider
Ted Tabura's Dying Wish Will Be Granted
 . . . Master Tabura's dying request was to have his ashes scattered where he felt most at home: here in Lahaina.
Shihan Ted Tabura passed away on August 12, 2013 at his home in Gardena, California.
Although he gained prominence as a world-renowned martial artist, Ted Tabura maintained the humility and simplicity of life that he grew up in on the island of Lanai and as a boarding student at Lahainaluna High School with the graduating class of 1958, along with his service in the U.S. military.
A disciple of Okinawa-te and one of the founders of the LimaLama style, Master Tabura became one of the world's highly respected and honored martial artists over his 50-year career in California.
He was featured in Black Belt, Karate Illustrated, Inside Kung-Fu, and many other publications and was recognized as the "Sickle Man" for his expertise in the art of the kama (Japanese sickle).
He was inducted into the Black Belt Magazine Hall of Fame for Weapons Instructor of the Year.
His island-style charisma and martial arts expertise took him into the entertainment industry, where he appeared – oftentimes with his sons – on the big screen in "Little Ninjas" and "Big Trouble in Little China" and on television with appearances in "Knight Rider" and "Greatest American Hero" episodes.
Despite the fame he gained, Master Tabura maintained his love for his island home and brought that affection back to Lahaina by promoting the Festival of the Kings Martial Arts Tournament that ran for over 15 years in Kaanapali. This tournament was attended and enjoyed by competitors from Hawaii, Japan, Australia, Germany, Mexico, Canada and all across the Mainland United States.
Master Tabura passed away in August 2013 in California. He is survived by his wife, Lois; sons Barron and Casey; daughter Gordena (DeeDee) Gibbs; and siblings Sally (Cadiente), Helen, Ron, Brian and Valentia.
According to Lois, Master Tabura's dying request was to have his ashes scattered where he felt most at home, in Lahaina.
To honor that request, a service was held on Saturday, Feburary, 15, 2013 at Waiola Church in Lahaina. A celebration of life potluck followed the service at the Na 'Aikane O Maui Cultural Center in Lahaina.
"He was a very approachable master who never forgot where he was from, and he was proud to be a boarder from Lahainaluna," said Lois. "He was simple in his philosophies but still mysterious in his ways."