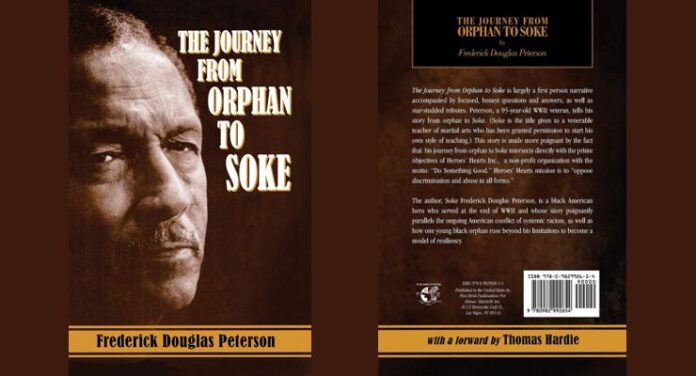 Largely a first person narrative accompanied by focused, honest questions and answers and star studded tributes, this 95 year old WWII veteran tells his story from Orphan to Soke. Soke is the title given to a venerable teacher of martial arts who has been granted permission to start his own style of teaching. This story is made more poignant by the fact that this Journey from Orphan intersects directly with prime objectives of Heroes' Hearts Inc, a non-profit with the motto: Do Something Good, and a mission to "oppose discrimination and abuse in all forms." The author, Soke Frederick Douglas Peterson is a black American hero, who served at the end of WWII and whose story parallels in poignancy the ongoing American conflict of racism, as well as how one young black orphan rose beyond his limitations to become a model of resiliency.
Editorial Reviews
About the Author
Fredererick Peterson Jr., a veteran of WWII and the Korean War, is one of the oldest living martial artists still active in the country. He is a seven-time martial arts hall of fame recipient who created his own system called Tai-Chi Jitsu. Dr. Peterson has taught, competed and judged in boxing and the martial arts across the United States since the 1940's. He has a direct connection to several historical events and figures. He also has worked with some of the most decorated athletes in boxing and the martial arts from around the country. Mr. Peterson who is known internationally, to this day is living history to the many he continues to mentor. He lives with his wife Elida in Gilbert, AZ.
Thomas O. Hardie III, a martial artist, amateur poet and a direct disciple of Frederick Peterson Jr. is a graduate of Cal. State University, Long Beach. Having worked for 2 CBS affiliates, an NBC affiliate and the Trinity Broadcast Network, he is currently a communication specialist for the City of Long Beach, CA. In addition to being a chief instructor in Tai-Chi Jitsu, he is also one of the senior instructors for San Do Kai Karate in Long Beach. Thomas lives with his wife Angela in Cerritos, CA.
Daniel W. Layne, a veteran martial artist and teacher is highly-decorated disciple of Frederick Peterson Jr. who also holds a doctorate in the martial arts. Having taught in Hawaii and Southern California, he has a vast knowledge of Japanese, Chinese and Filipino martial arts. He had the distinction of studying under Guru Danny Inosanto and Grandmaster Wayne Yi amongst others. Dr. Layne did stunt work and performed in action films during the height of his martial arts career. He lives with his wife Linda in Carson, CA.