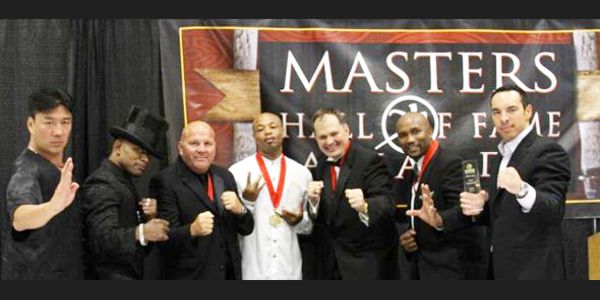 The 2011 Masters Hall of Fame took place last Saturday evening, August 27, and was truly an enjoyable evening. It seems that every year the Masters Hall of Fame Board gets better and better at helping this very large group of people to come together to enjoy old friendships and to build new ones. The event venue was very nice and fit the crowd perfectly. We entered the event quickly and easily and the only issue encountered was trying to figure out how we could all sit together at the same table. There were so many great people that you didn't want to miss out on sitting with anyone. We all went from table to table just to say hi and hug people. You so want family style seating but, alas, there are always too many of us.
We all enjoyed this years guest speaker, Don Warrener. He was honest and funny and truly spoke from his heart about his past in Canada, moving to Hollywood, and surviving as a martial artist in the entertainment industry. He also shared stories about the people who helped him along the way and about those he had helped through his company, Rising Sun Productions. Thank you, Don Warrener!
Don's friend and our top Advisor on USAdojo.com, Emil Farkas, the great martial arts historian, was also attending and we enjoyed talking shop and making future plans for events we know you will all enjoy.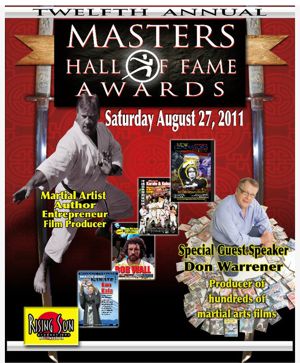 We want to start off this article by thanking Dan Hect and his beautiful wife, Dana, and their wonderful daughter, Megan. Most of us know Dan, but he also has a great family. Dana and Megan work very hard on the Masters Hall of Fame and they are kind, loving, enjoyable people. Take the time to introduce yourselves to them next year. We also want to thank David Dye and his family for all the hard work he puts into MHOF. His staff makes the Masters Hall of Fame run smoothly and efficiently year after year and we want to say a big THANK YOU to them.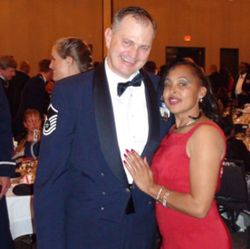 Another very special addition to the evening was the traditional Kyudo ceremony by Marcus Bossett, his family and students from Long Beach Kyudo Kai. It was a learning experience for me as I was sitting with Gordon Richusa who explained to me the meanings of the different parts of the ceremony. The traditional uniforms were beautiful and the "feeling" involved in the ceremony was enchanting. I only wish I had video to share with you, but this will be coming soon. Included in this part of the evenings entertainment was a Samurai in full gear.
Here are a few statistics about this years event shared with us by Dan Hect, the owner and producer of the Masters Hall of Fame.
MHOF had guests and inductees from other countries including Ireland, Philippines, Japan, Venezuela, Mexico, Canada, England and India. Not to mention from these states, Texas, Louisiana, Mississippi, Oregon, Arizona, Ohio, Michigan, New Jersey and Nevada.
Retired notable UFC fighters such as Marcus Bossett, Frank Trigg, Joe Charles and Shonie Carter were also present, as well as World Karate Champions Eric O'Neil, Robert Parham and Cynthia Rothrock, who is also a very well known martial arts action star. Another well known Kung Fu action star, Conan Lee also attended. Other notable martial artists who were present were Bob White, Gregg Wooldridge, Don Warrener, Jeff Anderson, Lou Salseda, Alfred Urquidez, Robert Posslenzny and Jim Wagner, as well as six LAPD "D" Team members who attended to honor to LAPD Defensive Tactics inductee, Robert M. Smitson.
Many of the guests were not martial artists, but came to honor those who are. Some donated their time to all of us who attended, such as Monty Torres, our Master of Ceremonies, who is a Fox News personality and David Kamatoy, owner of Kamatoy Media Group, who filmed the event.
The Masters Hall of Fame has been covered by USA Today, different radio and television shows, as well as the largest martial arts web sites in the world such as USAdojo.com and in online martial arts magazines such as Eddie Morales' MartialForce.com.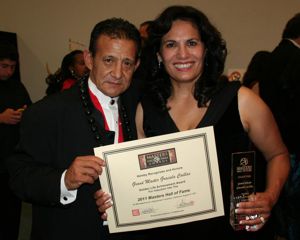 The Masters Hall of Fame is dedicated to "recognizing excellence in the martial arts" by giving public recognition to deserving martial artists who are an asset to the martial arts as well as their communities. The MHOF has developed into an exciting, well attended event that keeps true martial artists and their supporters returning year after year.
"An event like the Masters Hall of Fame takes hard work, dedication and a great deal of time. I personally want to thank Dan Hect and his family, David Dye and his staff, and all the Ambassadors and the MHOF Board Members for producing an excellent event year after year. I am proud to be part of the Masters Hall of Fame and to function as the Executive Counsel to the Ambassadors."
~ Sensei Alfred Urquidez