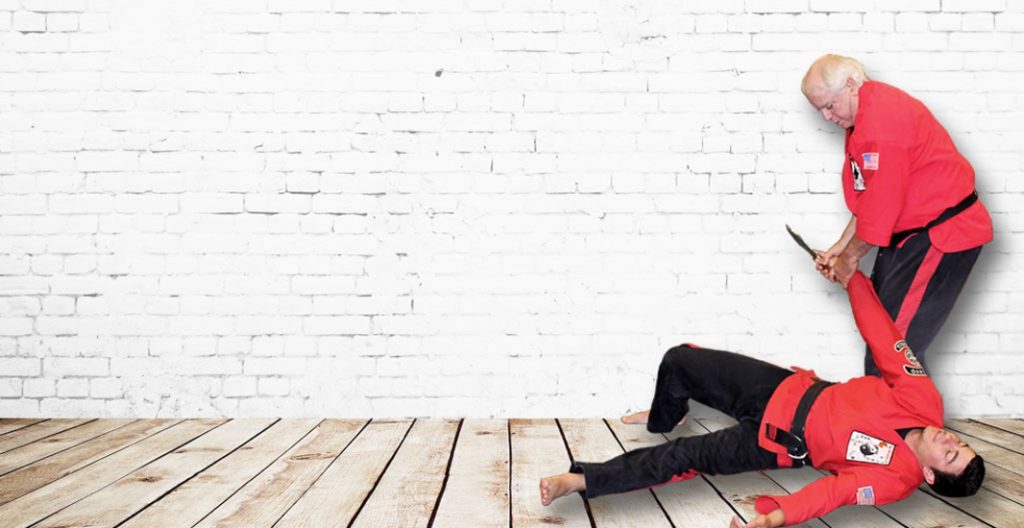 Professor Thomas Georgion was raised in Southern California, and as a youth he took every advantage of the ideal weather conditions in the San Diego area. From playing army in the canyons around his home to playing football at the neighborhood park, sports and outdoor games were a way of life.
As he grew older, he and the kids would imitate the martial arts moves from television and the movies. "Lloyd Bridges did a jujitsu move on the deck of his boat in full gear, fins and all and it was cool!" he says with a boyish grin, "We all had to try that one. For the most part that was the extent of our training. Back in the late 50's and early 60's Martial Arts schools, as well as qualified instructors, were at a premium."
After three years in college, Mr. Georgion was drafted into the army as a light arms infantry soldier, or foot soldier. After basic and advanced basic training in Northern California he was sent to the republic of Vietnam for a year's tour of duty. "I didn't want to go because of the times. I knew I would be going to Vietnam and fighting a war. It was 1968 and it was an unpopular war. I wanted to stay home and surf."
In the republic of Vietnam Mr. Georgion trained and went into smaller and smaller groups, ending in Reconnaissance and scouts. He learned to rely upon himself and his team for survival. He received several medals including the Purple Heart, Army Commendation Medal, and Air Medal with clusters.
After his two year commitment to his country, he returned to San Diego to take up his life again. He returned to his job in the airline industry and began his Martial Arts training in earnest. Mr. Georgion enrolled as a student of Jan Sumara, a Black Belt instructor under the renowned Kajukenpo co-founder Master Adriano D. Emperado, but after a year of training with Sensei Sumara, conflicting schedule changes at work and home forced Mr. Georgion to discontinue his training.
Undaunted, Mr. Georgion took full advantage of his next opportunity and began training with Master Parker Linekin, a student of Brian Adams who was a notable student of American Kenpos' Grand Master Edmund K. Parker (the father of American Kenpo).
As a student of Master Linekins', Mr. Georgion trained in the basic levels the first year and then began training as an instructor, warming up group classes and eventually teaching full classes of all underbelt levels. After six years of teaching and training under Master Linekin he earned his Black Belt and became a full time instructor.
For the next six years Mr. Georgion continued to train, advancing to third degree and becoming Master Linekin's chief instructor. During this time Mr. Georgion also cross-trained in Tai Chi, Escrima, Wing Chun and Chin Na, as well as guns and knives. Mr. Georgion also did night club shows, half time entertainment for major sporting events and demonstrations with the studio throughout the San Diego area. Mr. Linekin joined World Kenpo Karate association founded by Master Jim Mitchell, a noted Edmund Parker Black Belt. Master Jim Mitchell trained privately under Master Parker for over ten years, completely studying and analyzing the system piece by piece.
Master Parker was a genius of motion, imparting a genuine need for detail and knowledge to Master Mitchell. Master Mitchell has developed a large part of that knowledge and detail which he regularly imparts to his students. Mr. Georgion has been training with Master Mitchell for the past fifteen years. Ten years ago Master Mitchell had the opportunity to move out of the San Diego area giving Mr. Georgion the opportunity to purchase Master Mitchell's studio. For the next thirteen years he has owned his own studio, Aaction Kenpo Karate of Escondido California.
About this time the Aaction Kenpo Karate Studios and the World Kenpo Karate Association was disbanded by Mr. Mitchell as he himself pursued his own growth within the Martial Arts. At the same time Mr. Georgion's new teacher was revealed to him. As Mr. Georgion continued his training with Si-Gung Antwoine Alferos he joined Si-Gung's family. Mr. Georgion and Si-Gung Antwoine co-founded the Whipping Willow Association to promote the growth of the Martial Arts under the guidance of Senior Advisor Ming Lum.
Through their training together Si-Gung acknowledges Si-Bok Tom (Georgion) as his Senior Disciple in the Whipping Willow Fist Family.
Si-Bok Tom was promoted to the rank of Seventh Degree Blackbelt in Kenpo Karate in June of 2003. He is the Tiger of the Whipping Willow Association as well as the Senior Student of Si-Gung Antwoine Alferos, Whipping Willow Fist Family.
Prokenpo Martial Arts focuses on the complete development of its practitioners. Mr. Georgion teaches pee wee through adult black belt classes. Classes are tailored to fit the needs of the students, whether beginning, advanced, group, or private. Putting more or less emphasis on particular areas of the art that interest his students, Mr. Georgion teaches forms, sets, self-defense techniques, tournament competition and practical, effective street defense. Kenpo is taught without compromising its integrity. Mr. Georgion takes pride in determining the student's area of expertise and developing him to his fullest. Mr. Georgion has been judging tournaments in the San Diego, Los Angeles, Nevada and Arizona areas for the last twenty years.
He continues his involvement in the tournament area of the Martial Arts into the next century with his up and coming Sixth Annual San Diego Grand National Tournament. It will be held at the Golden Hall at the San Diego Concourse please see the attached web link for all tournament details.
"My Martial Arts was a natural flow from childhood into my later years, from the beginning stages of training to where I am today."