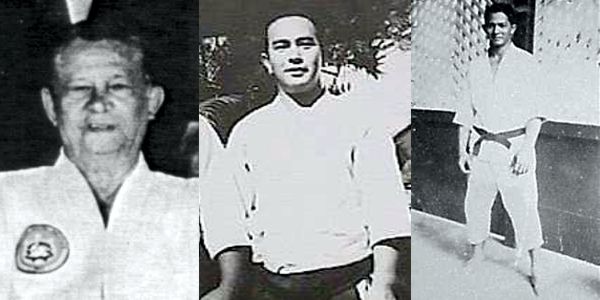 Professor Antone Gonzales, known as Tony Gonzales was born in Honolulu, Hawaii on April 2, 1921, growing up in Palolo and Kaimuki areas. Like Prof Okazaki, Gonzales had asthma, which made his life a bit uncomfortable. His brother Jimmy, a student at Okazaki's Waimanalo Plantation Dojo, suggested that Prof. Okazaki's "Restorative Massage" was what Tony needed. A young Tony Gonzales met Prof. Okazaki and became a patient. The massage room was located next to the gym and Tony was able to see the students practicing. After a few days of treatment, Prof. Okazaki suggested that jujitsu would further help in improving his condition. Thus, Tony became a student under Sensei Kimura at the Waimanalo Dojo.
After the breakout of World War II, Tony Gonzales enrolled in the Okazaki Dojo in Honolulu under Juan Gomez. One of his partners at this time was Shodan Wally Jay. By 1945, Gonzales was awarded his Shodan rank. Coincidentally, by this time, no trace of his asthma remained!
When Prof. Jay opened his own dojo in Kalihi, Gonzales went over as an assistant instructor. They made a great team putting on spectacular performances of the advanced arts for service clubs and organizations.
Tony Gonzales started his own club, the Saint Anthony Judo Club in 1949, a club which was still active until 1975. The club eventually moved from St. Anthony's in Kailua, Hawaii to Gonzales' residence. This was the first Hawaiian Club to win a Junior Championship in a National Tournament.
Tony Gonzales was awarded his Shodan in judo in 1954 by the Hawaii Yudanshakai and was promoted to Nidan in 1960.
Also in 1954, he began studying Aikido under Prof. Tohei at the Hawaii Aiki Kai. He was promoted to Shodan in 1956 and eventually opened the Kailua AM Dojo. These classes were conducted on alternate days of the week at St. Anthony's Club. He received his Nidan rank in Aikido in 1968.
Professor Gonzales served as the AJI President for several years, and on the Board of Directors and was its treasurer until 1996. He was a Life and Hall of Fame Member. Professor Gonzales was ranked as a Judan, 10th Degree Black Belt.
Professor Tony Gonzales passed away on September 8, 2001. He is sorely missed, but he will never be forgotten!