Grandmaster Carlos Navarro has made the Martial Arts experiences a way of life. An entrepreneur, Grandmaster Navarro is a graduate from the University of San Francisco, with a Bachelor Degree in Business Administration and a Masters Degree in Public Administration. He is bi-cultural and bi-lingual in Spanish and English.
He holds a 10th Degree Black Belt in Kenpo Karate, and he is a Muay Thai/Kickboxing Instructor, Founder of the Navarro's Progressive Kenpo Karate System and co-founder of "Crush Kick®."
He also teaches cardio kickboxing classes at fitness clubs in San Francisco and the Bay Area. Grandmaster Navarro is also a marathon runner. His dedication and self participation in promoting Martial Arts competition shave given him international recognition. Professor Navarro is a recipient of numerous Martial Arts Awards and Commendations, which honor him as a competitor, judge, arbitrator, and tournament promoter. He is an undefeated Grand Champion of many Martial Arts Competitions. Still active in his competitions, Grandmaster Navarro "gives"as well as attends seminars.
In 1994 Grandmaster Navarro was the pioneer to introduce Muay Thai and Kickboxing for the first time in any Open Martial Arts Tournament. He was the first to introduce Kenpo Karate and Muay Thai to his native country, El Salvador, Central America. Presently, Grandmaster Navarro is the owner and head instructor of Navarro's Martial Arts Academy.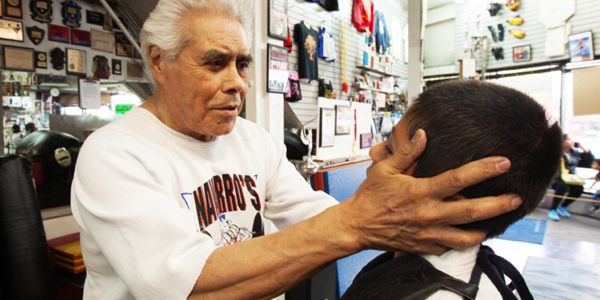 Grandmaster Carlos Navarro is a Hall of Fame recipient in the following: Affiliated Martial Arts Promoters Association (A.M.A.P.A.), The Federation of Latin American Kenpo Karate, The Advisory Council of International Martial Arts Federation, and Civic Involvement, his biography was selected to appear in well renown books (e.g.) "Who's Who in Finance and Industry", "Who's Who in the World" and "Who's Who in Karate."
In the motion picture and theatrical field, his credits over the years range in the following: Executive Producer, Line Producer, Producer, Script Consultant, Casting Director, Location Scout, and Fight Choreographer. Aside from behind the camera, Professor has landed supportive roles in motion pictures and has modeled as well.
And due to his popularity, he has served as a judge in many beauty pageants. Grandmaster Navarro dedicates much of his time to volunteer his experience to administer special programs that help prevent the use of drugs, alcohol, and violent gang activities among the youth. He has trained members of the Guardian Angels. In 1976, Navarro was in charge of the Police Minority Recruitment candidate's physical training program, and because of his sincere efforts and dedication, many of these candidates have joined the ranks in the San Francisco Police Department. He serves as a board member in different capacities of non-profit organizations, providing social services to the underprivileged communities.