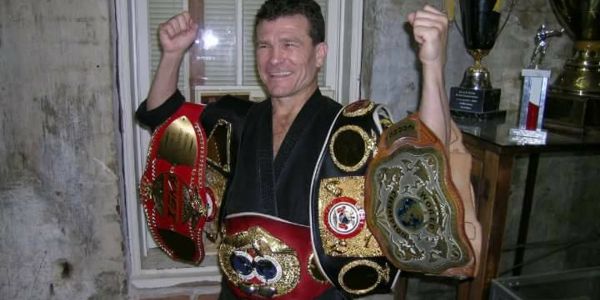 Troy Dorsey was born and raised in Mansfield, Texas. In 1973, at the age of ten, Troy began karate and in 1979 received his Black Belt in Tae Kwan Do – Karate.
Troy Dorsey began his fighting career after receiving his Black Belt and quickly became a top tournament competitor winning numerous regional and national competitions and earning a reputation in Semi-Contact Karate. After a brief and successful run as an amateur Kick-boxer he turned professional; winning multiple International and World Kickboxing titles sanctioned by K.I.C.K, ISKA, and WAKO. As a Full-Contact Kick-boxer his only loss was a controversial split decision against dominant long time PKA Bantamweight Champion Felipe Garcia in Garcia's hometown of Denver, Colorado. Six months later Troy would conclusively avenge that blemish in a very one-sided rematch which effectively ended Garcia's 8 year reign and ushering him into retirement. Throughout the mid 1980s Troy completely dominated his weight class handily outclassing all challengers.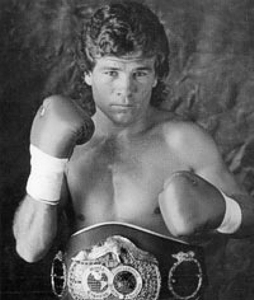 Milestones of Troy's career include a one sided knockout defeat of highly regarded Santae Wilson for the US. Featherweight Championship, and his literal destruction of #1 challenger Steve Demechuk. Troy would drop Demenchuk no less than 6 times before finally knocking his opponent out.
Troy Dorsey is widely considered one of Full Contact Kick-boxing's greatest fighters and a much sought after trainer. On June 18, 2010 he was awarded a 8th Degree Black Belt.
Troy holds a particularly unique distinction as the only man in history to hold World Titles in Kickboxing, Karate and Boxing.
In 1988 Troy Dorsey became a Professional boxer. As a boxer Troy held the NABF Featherweight Title, IBO Super Featherweight Title and also won the IBF Featherweight World Championship. His style and endurance made him one of the eras most exciting fighters.
Troy's boxing resume saw him face some of the best fighters in his class with mixed results. One of his greatest performances was a fast paced slugging match with national champion Harold Rhodes for the NABF Featherweight Championship. The two men met each round center ring both firing incredible volumes of powerful punches until Dorsey dropped Rhodes for a 10 count in the final moments of an exciting bout. Troy Dorsey is perhaps best known for two non-stop wars with IBF World Champion Jorge Paez including a highly controversial decision won by Paez in Dorsey's first title attempt. Brutal battles with Champions Gabriel Ruelas, Manuel Medina, Kevin Kelley, Jesse James Leija and Tom Johnson as well as facing Olympian and future 5 time World champion Oscar De la Hoya were milestones in Troy's boxing career. Troy was known predominantly for his indomitable spirit, amazing physical endurance and a propensity to hammer an opponent with a withering constant barrage of punches. His overall aggressiveness and refusal to back down prompted former Featherweight champion Kevin Kelley to equate his 12 round decision over Dorsey "Like a night spent in Hell!". Unfortunately Dorsey had a tendency to cut easily and saw several of his later fights stopped due to cuts: this subsequently hastened his retirement from the ring in 1998.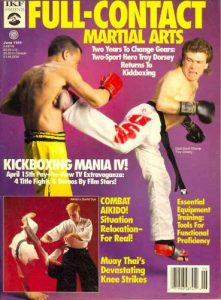 Troy Dorsey is actively involved in the community through his karate studios. He participated in the building and is a former honorary board member of Jonathan's Place which is a home for drug exposed children in Dallas. In 1997, Troy received the Outstanding Volunteer Award for Celebrity/Community Leader from Jonathan's Place. Each year Troy is involved with fund raisers for St. Jude's Children's Hospital, Muscular Dystrophy Association, Leukemia Society, Boy Scouts of America, Chuck Norris's Kick Start Program and North Texas Food Bank. Troy is also available for public speaking on topics such as self-discipline, respect, self-control and drug and alcohol abuse.
As of 2010, Troy Dorsey owns and operates Troy Dorsey's Karate in Mansfield, Texas. He currently resides in Mansfield with his wife, Leslie and two daughters Kendra and Shelly.
KARATE & KICKBOXING HIGHLIGHTS
1980 Top amateur kickboxer of the year
1982 Set world record for quickest knockout in kickboxing history in 9 seconds in 1st round
1983 US KICK Champ – Kickboxing
1985 WAKO World Champion London, ENG – Troy becomes only person ever to win two World Titles at one event in both point fighting and full contact
1987 ISKA World Champion (bantamweight) Won 8.8.87 against Felipe Garcia, El Paso
1987 Title Defense vs. Steve Demencuk W – 7th round KO
1988 Title Defense vs. Jeff Watt W – 3rd round KO
1989 PKO World Champion Gothenburg Sweden
1989 Inducted into Tae Kwan Do Hall Of Fame as professional fighter of the year
1990 Tae Kwon Do Times names Troy Dorsey Fighter of the Year
1991 Inducted into World Martial Arts Hall Of Fame
1992 Title Defense vs. Alexi Nachaev W – 5th round KO
1994 ISKA World Champion (lightweight).San Jose, California W – Michel Rochette
1996 Inducted into World Karate Union Hall Of Fame
1997 Inducted into Texas Martial Arts Hall Of Fame
2002 Inducted into Martial Arts Digest Hall Of Fame
2003 Martial Arts Digest names Troy Dorsey Fighter of the Year
Current Record
33 Wins, 2 losses
24 KO's
BOXING HIGHLIGHTS
1982 Began boxing with Trainer Casey Malone
1985 First pro fight Win 2nd round KO
1989 NABF Champion Great Falls, MT (fight of the year) vs. Harold Rhodes W in 10th round KO
1989 USA Network television names TD vs. Harold Rhodes Fight of the Year
1990 IBF Title Fight Las Vegas, NV vs. Jorge Paez L in controversial decision
1990 Paez Rematch Las Vegas, NV vs. Jorge Paez Draw
1991 IBF World Champion Las Vegas, NV vs. Alfred Rangel W in 1st round KO1991 Troy receives a proclamation and key to his hometown of Mansfield, TX. City proclaims August 27-31 as Troy Dorsey Week in Mansfield.
1991 Mansfield awards TD the Chamber of Commerce President's Award
1991 TD receives Award of Recognition from the Texas Boxing Commission the only boxer in Texas to receive the award
1992 Set record for most punches in a boxing match 1,527 in 12 round fight.
1992 Voted Fighter of the Year
1996 IBO World Champion Vejle, Denmark vs. Jimi Bredahl W in TKO 9th round
1998 IBC World Champion vs. Gabe Ruelas L in fight stopped in 7th round