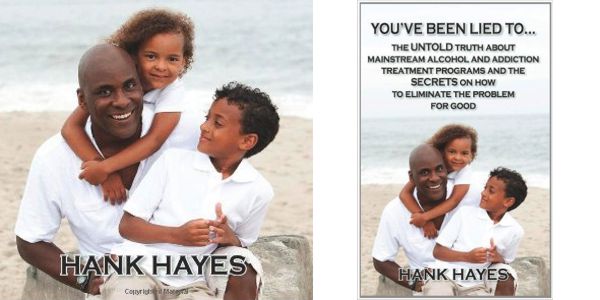 Hank Hayes here from No Lie Blades and NLB Defensive Measures tactical fighting system, and I want to share with you about my book, "You've Been Lied To . . . The Untold Story About Addiction Treatments.
My book however is not on a topic subject that you might think. It's about an issue that Officers deal with everyday – alcoholism and addiction abuse. As a law enforcement or military operator you know first hand that the job carries tons of stress along with a feeling of under-appreciation, as a matter of fact the team at Heavy Badge says, "police work is one of the top rated professions for job stress". Unfortunately those job stressors mount up and often play out in destructive ways.
In a study done on NYC police, they learned that twice as many policemen died from suicide than in the actual line of duty! What studies have shown us is that alcohol plays a direct role in officer suicide. What research also shows us is that 70% of law enforcement personal have a drinking challenge and 30% have a drinking and drug challenge. Heavy Badge states that "for the average officer possibly the hardest job of staying healthy is to admit that he/she has a problem", "the second hardest feat is the willingness to get help".
This is where "You've Been Lied To . . . The Untold Story About Addition Treatments can help you, your partner or comrades in arms. This text gives you "the 5 master key formula to an alcohol and addiction free life" without having to come out to the world unless you want to. You can achieve this success in the privacy of your own home. The content will arm you with the truth about just how many people from all walks of life deal with and successfully overcome this challenge. This is the breath of fresh air you're looking for. You are not alone. You can beat this! You will beat this!
The formula that we use is based on three main principles:
Knowing exactly where big industry and media have lied to us and where TRUE results come from.
Discovering what PROVEN methods the majority use to successfully overcome this challenge FAST.
Gaining the EXACT plan you will need to execute for success.
The book is called "You've been lied to… the UNTOLD truth about mainstream alcohol and addiction treatment programs and the SECRETS on how to eliminate the problem for good". The website for this project is On Track and Beyond. Please watch the video, then take action or submit your email information on the right side of the page and you'll receive free action step videos on what you can do right now to resolve this issue.
This is another life saving tool that I created to get you to the truth in No Lie fashion as you and I know first hand how badly it is needed.
I look forward to talking with you very soon. If you don't personally need this info I know you know someone who does. Please pass it on and maybe save another life, another way.
I guarantee this information will change your life just as we have changed lives for thousands of others with NLB globally.
---