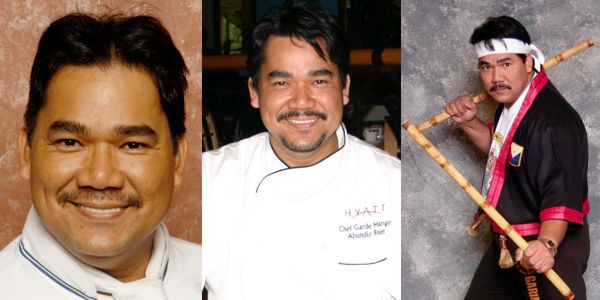 Gat Puno (or Grandmaster) Abundio Baet (also known as Gat Puno Abon), was born and raised in Paete, Laguna Philippines, and he is the fourth son of Grandmaster Felipe "Garimot" Baet. Gat Puno Abon teaches the family "Garimot" System, a complete martial art system that is strong in all combat ranges and is over 150 years old, and it is an art that has existed in the Baet family for over five generations.
Gat Puno Abon "Garimot" Baet began his training under his father's instruction at the age of seven. He began training with Arnis de Mano starting with the footwork and the initial basic attacks known as the Abecedario. Later, Grandmaster Felipe Baet went on to teach him Cinco Teros (5 ways of attack), Siete Colores (the 7 colors, a legendary seven angle Largo Mano system), and Doce Pares (the 12 Masters system, a 12 angle system originating in Laguna in the 1800's), and the basic defense for each angle of attack for each.
His father also taught him the double stick, Sinawali, and basic knife fighting techniques including Balisong. His training then moved on to the application of Mano-mano (hand to hand) combat techniques, and the grappling system of the Filipino Aborigines that is called Harimaw Buno (Tiger Style Wrestling). Gat Puno Abon continued his training with his father, eventually mastering even the most advanced techniques and concepts of the system.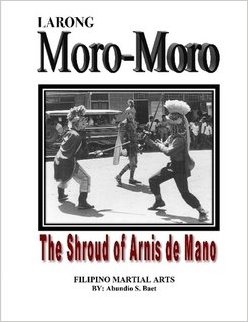 Eager to learn (or "absorb") even more, Gat Puno Abon sought out other masters from Laguna, each a specialist in one of the following: Largo Mano, Sobrada Herada, Largo Mano and Herada Corto de Abaniko, Crossado Corto de Cinco, Sobrada de San Miguel, and Herada Corto de Payong. He trained under each Master until reaching mastery. After a decade of intense training, Gat Puno Abon joined full contact, no padding, stick fighting competitions at Sixteen years of age. He lived up to the family tradition of victory by becoming a full contact, unpadded stick fighter and undefeated stylist of Arnis de Mano. He competed in the Laguna provinces of Paete, Lumban, Magdalena, Siniloan, Majayjay, and Famy. He held his title as undefeated Stickfighter from 1978-1985 (at which time he started on his journey to move to the US). He continued his training alone in the US, and then, with his father's blessing, began teaching the "Garimot" system in the US, including Arnis and Buno. In 1989 he founded the Laguna Arnis Federation, and Harimaw Buno Federation (Philippine Martial Arts, Garimot system, USA). Later he added the acronym P.A.E.T.E. (Paaralan ng Arnis – Estokada at Tradisyonal Eskrima)in honor of his hometown of Paete, Laguna in the Philippines. He teaches self defense, stick fighting (laban baston), knife fighting (laban daga), empty hand combat (mano-mano), and buno (Filipino wrestling). His teaching of Arnis is based on the original Moro-moro stage play (the "Garimot" system includes all 30 sequences of the moro-moro). The Moro- moro is where arnis, eskrima and estokada originated. Gat Puno Abon "Garimot" Baet is a fifth generation grandmaster. He is a supporter and promoter of the PAETE ARNIS FEDERATION and The CENTURION ORIGINAL (formerly Paete Arnis Club). Gat Puno Abon has been featured in different publications including The Philippine American Journal, Inside Kung-Fu, and The Karate Voice. He has given numerous seminars and demonstrations, including to civic & local organizations, law enforcement, and other martial arts groups locally and across the country.
Abon "Garimot" Baet is proud of the achievements that he has reached in Arnis, and as such he never forgets to acknowledge the other masters of Arnis de Mano that he was able to train under. They are as follows:
Maestro Rufino "Pining" Absin (Paete, Laguna) – Largo Mano
Maestro Tomas Baldemor (Paete, Laguna) – Sobrada Herada
Maestro Clemente "Ente" Afunggol (Paete, Laguna) – Largo Mano de Abaniko
Maestro "Indo" Afunggol (Paete, Laguna) – Herada Corto de Abaniko
Maestro Jose "Peping"Dimasaka (Paete, Laguna) – Largo Mano
Maestro Victor Afu David (Paete, Laguna) – Crossado Corto de Cinco
Maestro Alejandro "Andoy" Cacaos (Lumban, Laguna) – Sobrada de San Miguel
Maestro Juan "John" Ladiana (Lumban, Laguna) – Sobrada de San Miguel
Maestro Totoy Acuno (San Antonio, Kalayaan, Laguna) – Herada Corto de Payong
Maestra Myrna "Mana" Cadang (Paete, Laguna)
The experience of training with all of these well-respected Masters, including his own father Grandmaster Felipe "Garimot" Baet, in combination with the numerous experiences including victorious combat in full contact, unpadded stick fighting competitions, has formed today's Gat Puno Abon "Garimot" Baet.