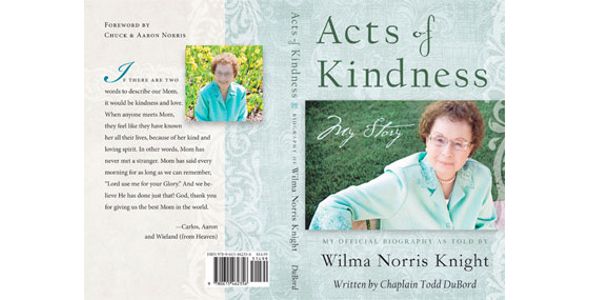 Wilma Norris Knight's official biography, Acts of Kindness, My Story, is about family, heritage, hardship and love.
If you like Chuck Norris, you'll love his Mom!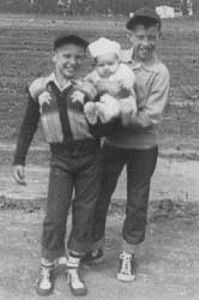 The past summer of 2011 was a very busy summer for me, and it included the opportunities to attend many wonderful martial arts events. There was one event and one person in particular, who imparted to me her strength and joy. Her name is Wilma Norris Knight and one of my new UFAF friend's, Tip Potter, made it possible for me to interview her.
Who is Wilma Norris Knight? She is the mother of Chuck, Aaron and Wieland Norris. Even more than this, she is a woman after God's own heart, and an inspiration to everyone she meets, including family, friends and acquaintances.
Beginning the interview was awkward for me, and I was nervous. I wanted to talk to her about her new book, Acts of Kindness, My Story, but I was unable to buy the book and read it before the interview. She brought boxes and boxes of books to the convention for us, but they sold out before I could get a copy.
Aaron helped us find a quiet place to sit, Mrs. Knight, her friend and secretary, and myself. I got out my iPhone so I could record the interview. I wanted to hurry because Mrs. Knight had had a long weekend and I didn't want to tax her any more than necessary.
We began to talk, and this beautiful lady put me at ease immediately. She shared with me a little about her life and then, instead of an interview, we just talked about our relationships with God, about her children and grandchildren and about the joys and trials she had experienced in her 90 years of living. She shared with me about the tribulations that lead her to a deeper and stronger relationship with God. This woman was the real thing, a genuine piece of coal, that God had made into a diamond. She talked about the pressures of a very difficult life that would have made most women bitter and callous, but not Wilma Norris Knight.
Almost as soon as we began to talk, it was over. Aaron came to get us for that afternoon's events and I was so disappointed. I wanted to continue to hear her stories about how God had changed ashes to beauty in her life. I picked up my iPhone and we hugged each other. She told me not to worry, that her stories were all in her book. "Read it", she said, "and we'll get together again soon".
When I finally got back to Carson City, after having been on the road for four and a half months, there was her book waiting for me. I had just moved out of my home and hadn't really had a chance to unpack and get settled in my new place before I went to the UFAF Convention. I had been gone for so long and there was so much unpacking to do. I was truly overwhelmed. I emptied my car and forgot about everything else. I crawled into bed and began to read Mrs. Knight's book . . .
Acts of Kindness is a book about family, about heritage and about God's hand in Wilma's life and in the lives of the people Wilma loves. It is a book of the geneology of a family, including who beget who, when and where. It is a book about hardship and healing, about struggles and victories, but mostly it is a book about love. The love of a woman for an alchoholic husband who she doesn't want to give up on and about the husband God brings her who never gives up loving her, or her boys. It is about the love children have for their parents and for one another, and it is about a woman who loves God, and a God who loves a woman, a God, who "steadfastly" watches over Wilma and those she cares about, leading them home to Him.
Acts of Kindness is a book that inspires and transforms the reader, not because it is easy to read, at times it is the opposite. Life for Wilma, and those around her, was never easy, but in the pages of this book you see the "joy of the Lord" in Wilma's life. She clothes herself with compassion, kindness, humility, gentleness and patience, (Colossians 3:12). Her life is a living testimony to each one of us, showing that God wants to be intimately involved in our lives, if we will only let Him. It shows that we can be God's hands and feet in the lives of others, if we allow ourselves to be. This book tells us that each one of us is God's child and that He is at work in us, creating men and women of character, when we allow Him to do so. As we walk through the life of Wilma Norris Knight, we see how character is built, often in hardship, but always covered in love.
I highly recommend this book.
. . . whatever is true, whatever is noble, whatever is right, whatever is pure, whatever is lovely, whatever is admirable if anything is excellent or praiseworthy think about such things. Philippians 4:8