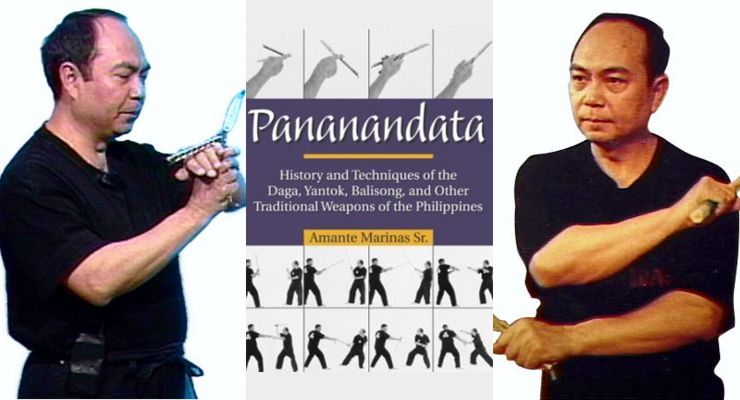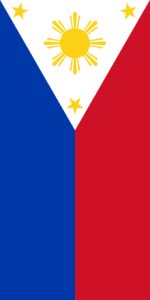 Amante P. Marinas is a chemical engineer and teaches Pananandata© his family's weapons fighting system. He has Black Belts in shorin ryu and in aikido.
Amante P. Marinas, known as "Mat", was born in Pambuan, a small village in Gapan, Nueva Ecija, in Central Luzon in the Philippines. He is a former Professor of Chemical Engineering at Adamson University in Manila, Philippines. His province is named after the town of Ecija in Spain. Ecija was one of the first provinces to revolt against Spain and is one of the eight rays of the sun in the Filipino Flag.
Amante P. Marinas was only 8 years old when he was introduced to Pananandata© by his granduncle Ingkong Leon Marcelo. Pananandata© is the art of Filipino weaponry taught in the northern Philippines. It is very different from the southern styles as it uses a 31″ long rattan stick, the Latiko or horse whip, the Dikin or rattan rings and the other very unique weapons. The art of Pananandata© also stresses footwork, explosive jumping and un-padded free fighting. This unique family style also encourages individuals to use their own fighting styles.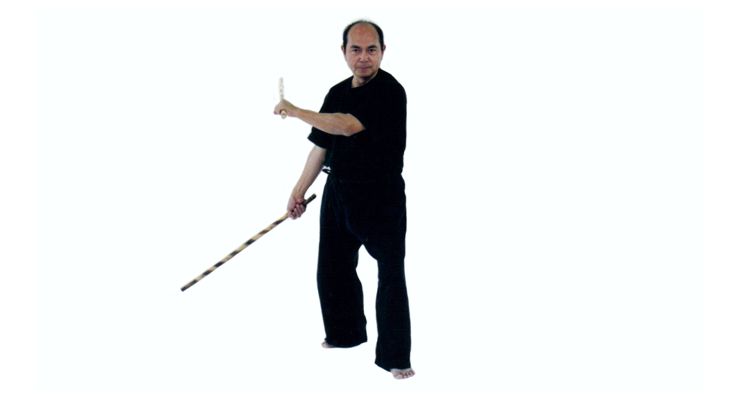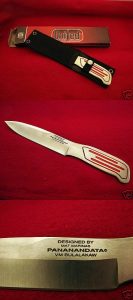 Amante P. Marinas introduced the Latiko or horse whip, the Lubid or rope, the Bagakay or wooden throwing dart and the Dikin or rattan ring in the United States and in Europe.
Professor Marinas is an avid knife thrower and has thrown over 1,500,000 times.
He designed a knife the VM Bulalakaw that was marketed by United Cutlery.
Amante P. Marinas was inducted into the International Knife Throwers Hall of Fame (IKTHOF) in 2007. His 14th book Archery for Beginners is scheduled for release in spring 2019.
He has written 13 books, two of which are on knife throwing: Pananandata© Guide to Knife Throwing (United Cutlery, Sevierville, TN, 1999) and Art of Throwing (Tuttle Publishing, Rutland, VT, 2007 & 2010).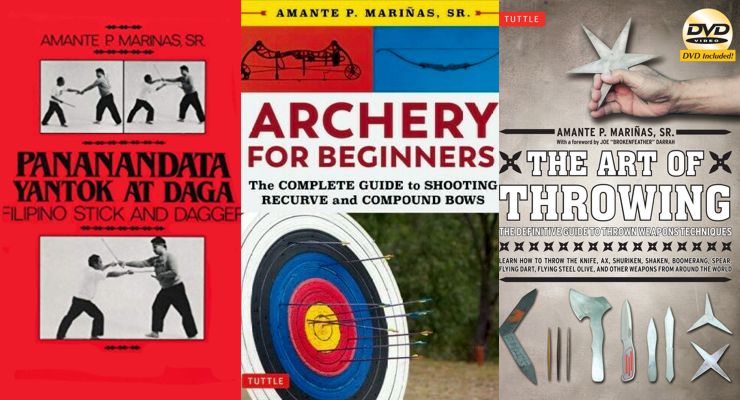 Archery for Beginners: The Complete Guide to Shooting Recurve and Compound Bows
Archery for Beginners is a complete instructional guide by Amante P. Marinas for anyone interested in taking up recreational archery. This book covers all the essentials for the beginning archer–from basic skills and equipment to effective and safe training methods. There are chapters on both recurve and compound bows, the two most popular types, as well as information on how to track your progress.
The Art of Throwing: The Definitive Guide to Thrown Weapons Techniques
Concise and informative, The Art of Throwing is the ultimate introduction to the exciting world of throwing weapons.
Pananandata: The Guide to Balisong Openings
The openings covered in this book range from basic concepts behind the blade to more intricate openings such as two-hand, hand transfers, pin end and latch end holds, finger rolls, handle transfers and aerials, by far the flashiest and most dangerous.
Pananandata Yantok At Daga: Filipino Stick And Dagger
Learn defenses against long and short weapons through this devastating Filipino system of Pananandata© taught by Amante P. Marinas.
Blowgun Techniques: The Definitive Guide to Modern and Traditional Blowgun Techniques
Blowgun Techniques is a complete introduction to one of the world's oldest weapons. It provides detailed explanations and instructions on all aspects of the blowgun's use—from grips and stances, to targets and trajectories, to how to construct your own blowgun.
Pananandata Guide to Knife Throwing
Pananandata: History and Techniques of the Daga, Yantok, Balison and Other Traditional Weapons of the Philippines
Filipino martial artist Amante P. Marinas brings the seldom-seen origins and techniques of a dozen weapons of the Philippine Islands together in one place in Pananandata©: History and Techniques of the Daga, Yantok, Balisong, and Other Traditional Weapons of the Philippines. Not since Dan Inosanto's out-of-print classic The Filipino Martial Arts has one book encompassed so many different aspects of the arts of the Philippines.