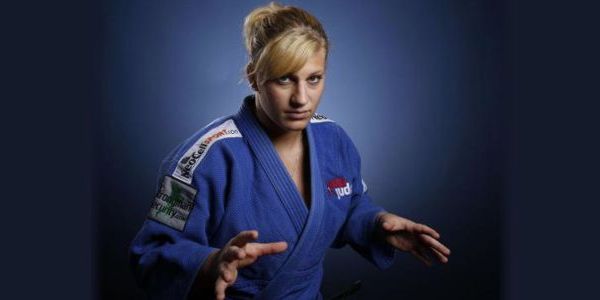 Congratulations to American Judoka Kayla Harrison, the gold medal winner in the 2012 London Olympics women's -78 kg division!
Judoka Kayla Harrison is from the United States of America. She won the Junior World Championship in 2008, and was runner-up in 2009. In 2010 she won the World Judo Championships. In 2012 Kayla Harrison became the first American to win the Gold Medal in Judo at the London Olympics. she won in the women's -78 kg division.
Kayla was born in Middletown, Ohio. When Kayla was six years old she was introduced to judo by her mother, who study the art in College and was a Black Belt. By the time Kayla was 8, she was hooked. Training with Daniel Doyle, she won two national championships by the age of 15. After Doyle was convicted and sentenced to a ten-year prison term for abusing Kayla, she moved away from her home in Boston and, in 2007, began training with judo champion Jimmy Pedro and his father, Big Jim.
Kayla was cutting 20 pounds to make her weight class but, in 2008, with the advice of the Pedro's she changed weight classes from the -63 kg division to the -78 kg division which took an incredible amount of extra strength training and determination. She was unable to compete in the 2008 Summer Olympics because the United States did not qualified in this division that year. Kayla did win the Junior World Championship in 2008 and she placed second in 2009, which made her the first American to compete in two Junior World Championships finals.
In 2010 Kayla won the gold medal in the -78 kg category at the World Judo Championships. No American had won since 1999, when her coach, Jimmy Pedro, won in Birmingham, England. Kayla took third, winning the Bronze medal at the 2011 World Judo Championship in Paris. She had lost to the eventual winner, Audrey Tcheumeo, in her semi-final.
Before the 2012 Olympics, Kayla was injured during training when she tore a medial collateral ligament, but she went on to win the Gold on August 2, 2012. She won the Olympic title in the -78 kg category, by defeating Great Britain's Gemma Gibbons by two yukos, thus becoming the first American to win an Olympic gold medal in judo.