Grandmaster Venancio Anciong Bacon was born on October 15th, 1912 in Carcar, Sout of Cebu Province. Hestudied under Lorenzo "Tatay Ensong" Saavedra. "Tatay Ensong" organized what was then known as the Labangon Fencing Club know later as the Doce Pares Club.
After the death of Tatay Ensong, internal bickering and politics rocked Doce Pares and Anciong Bacon later dropped out of the society after a bitter feud with the Canete clan. A diminutive man barely 5 ft. 2 inches tall, GM Bacon was very adept with his checking hand known as tapi-tapi, checking hand. After breaking up with Doce Pares GM Bacon developed and established his own system and named it Balintawak after the small street where he used to practice with one of his first students Eduardo Baculi.
During he "GOLDEN AGE OF ESKRIMA" GM Bacon was one of the most feared Eskrimadors in Cebu City. He was reputed to have fought and won more than one hundred duels. He was once incarcerated for killing an attacker in self-defense. While in prison GM Bacon never stopped innovating and re-inventing Balintawak Eskrima. When he was finally released, he had already modified the modules and called it Cuentada. Very few took him seriously except GM Timoteo Maranga and GM Jose "Jogo" Millan.
Among Bacon's illustrious students were Jose Villasin, Teofilo Velez, Timoteo "Timor" Maranga, Eddie dela Cruz, Delfin Lopez, Tinong Ybanez, Isidro Bardilas, Ationg Abella to name a few. Today, his genius and legacy has spread throughout the world in different organizations and methodologies, with the exception of some schools run by self-styled experts, many have remained true to the essence of Anciong Bacon's Balintawak Eskrima.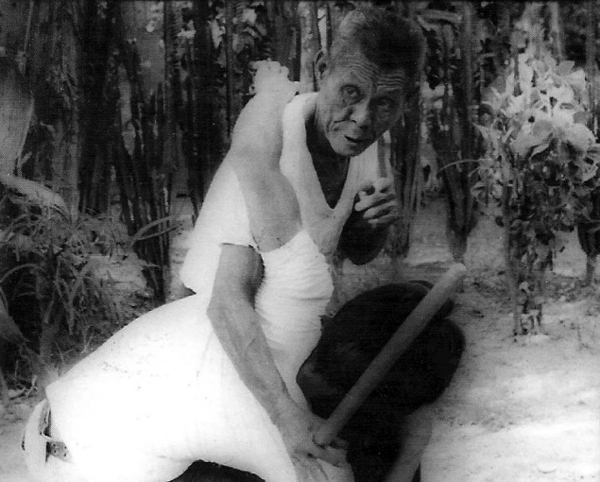 The late Grandmaster Jose "Joego" Millan was one of the earlier students of Balintawak Cuentada system, who kept a low profile. With the late GM Anciong Bacon's blessing and supported, he created Tat Kon Tou. Those whoe really knew him would attest to his ability in stickfighting, they even called him "Little Anciong". For years, after the death of Grandmaster Bacon, he was still unwilling to teach the art of stickfighting, instead concentrated on barehanded fighting. In 1988 he was asked by his kumpadre to privately teach his son the art of stickfighting. So Granmaster Millan started teaching two students exclusively his brand of stickfighting Grandmaster Millan chose not to call his school as just another Balintawak, because according to him nobody, including him really received a license from the late GM Bacon, or appointed heir to carry on the name of Balintawak. Up to his death in June 1991, the tuiton was solely on Banate country to teach the Art to the more lucrative market in foreign countries especially the U.S.A. Many are still around and teaching the Art to the next generation. Among them is Manoy Eusebio "Sebio" Monino. Manoy Sebio was born on December 16, 1928 in Medellin, North of Cebu. A former boxer and construction supervisor, Noy Sebio was a protege of the Balintawak founder GM Venancio "Anciong" Bacon. Back in the early seventies Noy Sebio was teaching Karate and Judo at the Kyodai Combat
Judo Club at the old Osaka Building in Pasil District. One floor below their dojo was the Balintawak Club of GM Anciong Bacon. He was introduced to the late Balintawak patriarch through a close friend and GM Bacon crony Rencio Paredes. Like his mentor, Noy Sebio a natural fighter and quickly absorbed the finer points of Balintawak. With cockiness and pure guts, he would go out of his way to spar with the best and more advanced students of GM Bacon like the late GM Timoteo "Timor" Maranga and GM Teofilo Velez and Sergio Arcel. Noy Sebio remembers GM Maranga for his fast sweeping techniques and lightning reflexes.
During one of his palakaw drills with the late GM Teofilo Velez, Noy Sebio was so carried away with the intensity of their "play" that he hit GM Velez on the cheek. GM Velez visibly irked by the "accident" snapped back hard at Noy Sebio and hit his crown. GM Velez seeing blood spurting out of Noy Sebio's head immediately applied first aid. Both men being good sports did not allow the incident to escalate and they continued to be good friends for many years. Three days before he died, GM Maranga sparred for the last time with Noy Sebio. Manoy Sebio is one of the few Balintawak fighters that can articulate on the more subtle movements of the empty handed techniques of Eskrima that he calls Cadena de Mano. Today he teaches the pure unadulterated Balintawak system handed down to him by the late Venancio "Anciong" Bacon, and as a testament to his loyalty to Bacon, he maintains the same circle of friends and former students of another GM Bacon protege the late Jose "Joego" Milan. Noy Sebio, like any archetypal Cebuano Eskrimadorhas proven himself in lethal confrontations and tamed the toughest bullies in the mean streets of Sambag and Barracks Districts. Since then he has moved to the more peaceful neighborhood of Andres Abellana St., as he said, "age is catching up and I can't fight bullies forever.