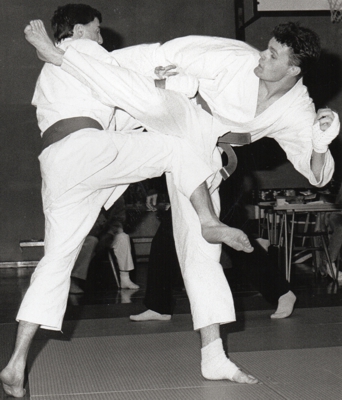 Bill Burgar started training in a "traditional" Shotokan club in 1979 achieving first dan in 1983. He founded the Reading University Shotokan Karate Club in 1984 where he taught for many years.
Bill ran a karate magazine called Dojo Magazine for a number of years and has also had many articles published in other martial arts magazines, on the web and in web journals.
Bill Burgar has formed relationships with mentors considered leaders in the field. In 1995 he arranged Rick Clark's first tour of the UK and learned many aspects of kyusho and cross training first hand with Rick on each of his visits to the UK. As a result Bill has cross-trained and picked up knowledge from outside his core area of karate.
In 1996 Bill Burgar started on an experiment to focus exclusively on a single kata (Gojushiho) in a similar way to the old masters of Okinawa. Training alone Bill has explored the depths of the single kata and has written a book giving readers not only an insight into how single kata training can be of benefit but also showing the reader how to do this for themselves.
In June 2000 Rick Clark awarded Bill Burgar his 6th Dan. Bill continues to train in his personal dojo at his home with selected training partners.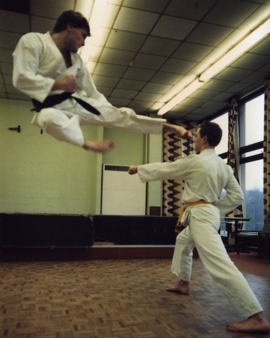 During his time working on a single kata Bill Burgar developed the habit of solo training which he continues today. He also occasionally teaches courses when invited to do so.
Bill Burgar has been published many times in Shotokan Karate Magazine and Traditional Karate Magazine and various other magazines around the world.  He ran his own small karate magazine called Dojo Magazine for a few years in the 1980s.
His book Five Years, One Kata (330 pages) was published in 2003. It is a book for advanced karateka typically 2nd dan and above and gives the reader a unique insight into an amazing five-year study of a single kata (Gojushiho).
Grading Record
9th and 8th Kyu White Belt 19 December 1979
7th Kyu Yellow Belt 24 April 1980
6 Kyu Green Belt 24 July 1980
5 Kyu Purple Belt 10 December 1980
4th Kyu Purple Belt with white stripe 2 April 1981
3rd Kyu Brown Belt 15 July 1981
2nd Kyu Brown Belt with white tag 16 June 1982
1st Kyu Brown Belt with white stripe 5 December 1982
1st Dan Black Belt 4 September 1983
2nd Dan Black Belt 8 September 1985
3rd Dan Black Belt 4 September 1988
4th Dan Black Belt 1 September 1992
5th Dan Black Belt 1995
6th Dan Black Belt 24 June 2000