Dr. Bill Drougas PhD, was born in the town of Arta in West Greece. He studied Physics at the University of Ioannina and received his BsC Diploma in 1986 from Physics and Mathematics School University of Ioannina Greece. He holds a PhD in Biophysics and Ergophysiology from the School of Medicine the University of Ioannina Greece and postgraduate studies in Health Informatics from MONASH University Australia and Educational Technologies in the Indiana University USA.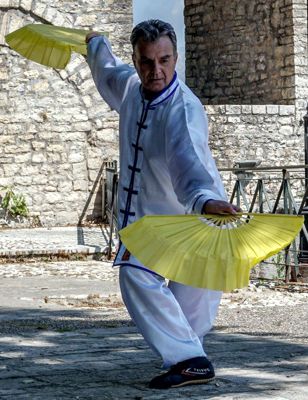 Bill Drougas teaches at the highest technological institute of Epirus. He has received many honors world wide including the Leading Scientists 2005, one of the Great minds of the 21st Century, the World Sports Award, the award of dedication in Human Research, Physics Science Researcher in Sports and Defence Arts Award, and has been inducted in numerous Halls of Fame as Writer of the Year, Grand Master of the Year, Head Founder of the Year, as well as receiving International Achievement Awards and Researcher Historian in Asian Arts from EUSAA as well as others.
He is the first Greek living in Greece to be inducted into Halls of Fame and to be inducted into the Guinnes Book of World Records for his prestigious work in applied kinetic styles and martial arts from all over the world, which are included in his Book of Styles. Bill Drougas has received awards from well known Grand Masters and Heads in both the East and the West. He has been included in Korean, Asiatic and Western books.
Bill Drougas has written over 30 books for various sciences and had over 300 articles included in magazines and newspapers worldwide. He has trained in the following styles of martial arts, Five animals style, Tenshi Goju, Tian Chuan Fa, Fu Chia pai Huo, Kyokushin Kai, Five Animals Kung Fu, Taekwon Do, Hapki Do. He teaches the style of Kung Fu that he created with the name Vichara Tai Jug Fu (Dou Chuan Pai) the Drougas' Kung Fu Style.
He holds the following degrees in the Martial Arts styles:
Vichara Tai Jug Fu Sijo Head Founder
Dou Moo Kwan Do : World Head Master
Fu Chia Pai Huo : Master
Chinese kenpo Style : Master
Taekwon Do : Master
Hapkido : Master
Tae kung Jitsu : Master