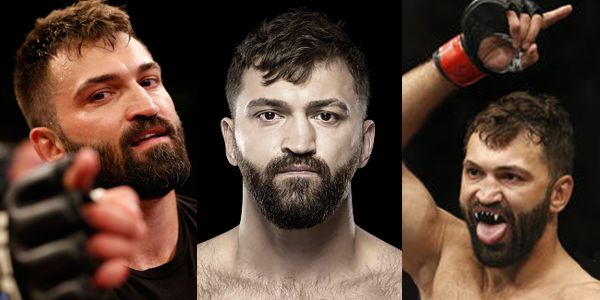 Andrei Arlovski grew up in Minsk, Belarus, and as a youngster he played soccer. In 1994, when he was 14, he began lifting weights to build muscle and to gain strength. His interest in personal fitness and conditioning led Arlovski to take an interest in combat sports. Graduating from high school at 16, he enterd the police academy in Belarus. During his academy education he was told to join the Belarussion National SAMBO Team. A few years later, at 19 he won the Bronze medal at the World Championship Tournament and the next year he received a World title in SAMBO.
In 1999, Andrei won the European Youth Sambo Championship and the World Youth Championship. He also took a silver medal at the Sambo World Cup and another silver medal at the World Sambo Championship. Arlovski began taking a greater interest in other martial arts, studying kickboxing and developing striking skills to complement his Sambo-based grappling abilities. M1 Mix-Fight At the age of 19, Arlovski began his professional MMA career at the Mix Fight M-1 in St Petersburg, Russia in April 1999. It was a fairly inauspicious start, losing by KO to the un-heralded Viacheslav Datsik. Not deterred, Arlovski returned in 2000 to M-1 at the European Championships, taking the heavyweight crown with a submission victory and a knock-out victory. UFC Arlovski made his Ultimate Fighting Championship debut at UFC 28: High Stakes, defeating Aaron Brink by submission. He was thrown in against top opposition early on in his UFC career, taking tough losses against Ricco Rodriguez and Pedro Rizzo. Despite those early defeats, big wins over Ian Freeman and Vladimir Matyushenko propelled Arlovski back into the UFC elite. The motorcycle accident injury suffered by UFC heavyweight champion Frank Mir in 2004 led to the creation of an "interim heavyweight title". It was decided that the two top heavyweight contenders would meet to declare the interim champion. On February 5, 2005 at UFC 51, Arlovski would face the previous heavyweight champion, Tim Sylvia.
In a rematch with Tim Sylvia on April 15, 2006, Arlovski knocked Sylvia down with a right hand punch early in the first round. Sylvia was able to protect himself and recovered almost immediately. While Arlovski tried to finish Sylvia with a right lead, Sylvia countered with a short right uppercut to the chin, knocking Arlovski to the mat. Sylvia followed up with strikes on the ground until referee Herb Dean stopped the match at 2:43 of the first round.
The rubber match between Tim Sylvia and Arlovski took place on July 8, 2006 at UFC 61: Bitter Rivals. In what turned out to be a 5 round battle of attrition, neither fighter was able to knock out the other, or even land any truly significant blows. In the end Sylvia won the fight by decision. It was later discovered that Arlovski had actually been significantly injured by a checked leg kick sometime in the second period which left him unable to throw kicks of his own or make any takedown attempts. Arlovski did not report his injury during the fight, as is required by UFC rules; indeed, the injury may never have been known except that it was leaked that Arlovski was having an MRI done on his leg a week after the fight. The injury caused his ankle and knee on his left leg to swell up to about four times its normal size. When confronted by a reporter about the MRI, Arlovski avoided responding directly and would only say "I do not want to talk about my injuries or look for any other excuses." Not too long after it was also revealed Tim Sylvia had sustained an injury as he fainted at his hotel room, and upon hospital examination, doctors discovered a concussion undetected after the match.
Arlovski fought PRIDE Fighting Championships veteran and Brazilian jiu-jitsu black belt Fabricio Werdum at UFC 70 and won by unanimous decision. Both fighters kept their distance for the majority of the fight, causing the referee to inform them at the beginning of the third round that he would remove a point from the first fighter to retreat in that round. Although Arlovski won the fight by unanimous decision, many boos could be heard from the crowd. After the fight Arlovski apologized to the fans for fighting for the full fifteen minutes.
Reports surfaced claiming that Arlovski would not fight again in the UFC, instead choosing to wait out his contract before moving on to a different fighting organization. Arlovski's representatives later denied these claims and said that Arlovski was looking forward to his next fight in the Octagon.
After 11 months of inactivity, Arlovski made his return to the octagon at UFC 82 and defeated Jake O'Brien via TKO in round two. With this win, Arlovski gives O'Brien his first ever MMA loss.
Arlovski left the UFC with a record of 10–4, including going 3–2 in title fights.