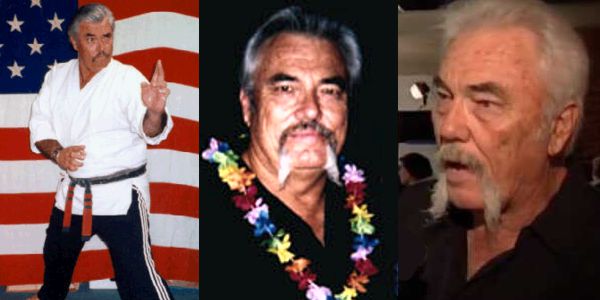 Master of the Arts, Bob Mitchell, took his fighting from the street and the knowledge that Mr. Nuuhiwa supplied, and started his career in American Kenpo, at Ed Parker's IKKA Karate Studio ran by Bob Perry, in Garden Grove, California.
During this time he studied with the top names in American Kenpo and with the help of Mr. Parker and Mr. Perry, Bob Mitchell became a fierce competitor and respected martial artist. Bob Mitchell received his Black Belt from Mr. Parker on September 11, 1971 and has continued to give back the Knowledge he learned to many students through the years.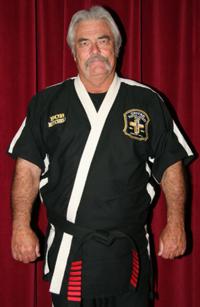 Bob Mitchell was a very respected fighter and was successful in taking his share of awards in state and international competitions. Professor Mitchell began competing in 1966, at the International Karate Championships in Long Beach, California. He was on the first IKKA team that took first place after defeating the Chuck Norris team in the finales. In the match, the IKKA team was down 3 points going into the final match when Mr. Mitchell defeated his man by 4 points giving his team the championships.
In the 1970's Professor Mitchell went on to be awarded "Fighter of the Year" at the IKKA awards banquet. In 1975 Mr. Mitchell was honored by Black Belt Magazine with a cover on their annual yearbook edition. After retiring from competition Mr. Mitchell trained as a bodyguard and worked with some of the best street protection specialist in California. In 1983 Mr. Mitchell came out of retirement to fight along side of Mr. Bob White, Mr. Dave Brock, Mr. Pete Neil, and Mr. Rick Shanbrook, and they took 1st place at the "International Karate Championships" in team competition.

Professor Mitchell is an outstanding instructor and coach. Although Professor Mitchell prefers the bare knuckle fighting done in the 1960's and 1970's, his arsenal of inside fighting techniques has helped many of his students developed into the champions. Professor Mitchell states that his greatest achievement is teaching young kids. "Helping children come out of their shells and gain confidence and the ability to achieve their goals also helps to make them champions in Life".
Mr. Bob Mitchell is the promoter of "United Martial Artists for Christ", a fellowship that is close to his heart. Professor Mitchell feels there is only one true Master, our Lord and Savior, Jesus Christ.
Bob Mitchell was promoted to 9th Degree, Master of the Arts, in Kenpo Karate on June 30, 2018 by Senior Master of the Arts, Bob White at Bob White Kenpo Karate Studio in Costa Mesa, California.
Mr. Bob Mitchell resides in Garden Grove, California. He has two sons, Vincent and Robby.