Bonnie Canino was born in Miami, Florida, on January 11,1962. Of Puerto Rican descent, Bonnie is a retired American 2 times World Champion Kickboxer and first Woman Featherweight World Champion Boxer, earning 4 World Titles in the 1990's.
Only 5'6″, Bonnie "The Cobra" Canino is a tough featherweight kickboxer and boxer who severely tested Kathy Long and Britain's Lisa Howarth in ISKA world title matches in her long career.
Bonnie "The Cobra" Canino amassed a 28-4 kickboxing record, winning the WKA and KICK world championships, before embarking upon a career as a pro boxer.
She is one of the very few women to be still standing at the end of a kickboxing battle with Lucia Rijker.
Her swarming, smothering style and excellent physical condition gave Kathy Long fits in their 12-round title bout in 1990. Long was clearly rattled and barely defeated Canino with a stirring comeback in the later rounds.
"Kickboxing allowed us to get in the ring and compete at a time when boxing was still barred to us," she says. "I could get mainline kickboxing fights then, but I was still doing gym fights in boxing because the doors were closed to us."
As a professional boxer Bonnie has held the WIBF and IFBA featherweight world titles.
Her first pro boxing bout was on January 16, 1996 in Fort Lauderdale. Bonnie KO'd April Griffith in the first round. On November 20, 1996 she stopped Tina Speakman on a second-round TKO and three days later she won a four-round decision over Sue Chase of Ohio.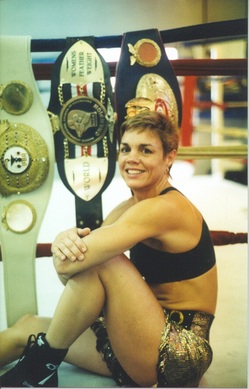 On March 2, 1997 she lost the WIBF Featherweight belt by a 10-round unanimous decision to hard-hitting Irish boxer Deirdre Gogarty. Bonnie's performance was a disappointing clutch-and-grab effort against the Irish star who was the latest addition to Don King's promotion of women's boxing. Using tactics more reminiscent of Muay Thai, Canino appeared to be trying to throw Gogarty through the ring ropes at one point in a fight that was not one of her best performances.
Bonnie also suffered a kickboxing defeat at the hands of Bridgett "Baby Doll" Riley, in a rematch of an earlier encounter that she had won.
We saw these losses as a sign that Canino's long and proud ring career might finally be winding down. But Bonnie returned to the pro ring to contend for the IFBA featherweight title against "Battling" Beverly Szymanski on August 2, 1997.
IFBA title fight vs. Beverly Szymanski
Bonnie dominated the early rounds with classic outside hit-and-move tactics behind a pinpoint jab. Szymanski came back hard once she had figured out Bonnie's southpaw style and the jab, and began working Bonnie's body to set up shots to the head. But Bonnie regained control and worked the jab again in the final rounds to take a unanimous decision and the IFBA title.
This fight told the world that Bonnie isn't ready to hang them up yet and that still has some different looks to show us with all her ring experience.
Bonnie suffered a setback (and an even rarer loss by stoppage) when Chevelle Hallback won the WIBF "Intercontinental" Super Featherweight Championship by TKO'ing her on March 6, 1998 in Fort Lauderdale, Florida. Bonnie retired after the 6th round after being cut over the right eye and on the left eyelid by accidental head butts, with Hallback leading on the scorecards.
Bonnie bounced back well from this loss on June 26, 1998 in Las Vegas by retaining the IFBA featherweight title with a unanimous 10-round decision over Canadian veteran Nora Daigle.
On August 21, 1998 at the Belle Casino in Baton Rouge, Louisiana, she won a six-round unanimous decision over Gloria Ramirez of Sunland Park, New Mexico. Ramirez was looking to knock Canino out in this one, and wobbled Bonnie early in the third. Canino's experience showed as she controlled the last half of the fight to earn a (58-56, 58-56, 59-56) decision.
On September 12, 1998 in Miami, Florida, Bonnie won a first-round KO over Shakurah Witherspoon of Williamsport, Pennsylvania.
On September 16, 1998 at the Boomtown Casino in New Orleans, Louisiana, Bonnie won her second bout in four days with an 8-round unanimous decision over Sue Chase of Ohio.
On March 25, 1999 at the Pontchartrain Center in New Orleans, Louisiana, Bonnie advanced her pro record to 14-2 with a TKO at 0:23 in the first round over Gena Davis of Erie, Pennsylvania, who fell to 1-4.
On May 27, 1999 at the Gold Strike Casino in Tunica, Mississippi, Bonnie lost an eight-round unanimous decision to one of women's pro boxing's most promising newcomers, 1998/1997 US national amateur 125-lb champion Alicia Ashley of Westbury, New York. Ashley was coming off a tough loss to undefeated Doris Hackl in Canada only a week earlier and moved her own record to 2-1 with this win over the veteran, who dropped to 14-3.
In October 1999, Bonnie announced that she would retire from competition.
Asked if she had any regrets about her fighting career, Bonnie replied: "Not a one. I wanted to be in this atmosphere, I wanted to eat it, I wanted to breathe it, and I got there. Fifteen years later I've been in 39 professional competitions and I've been all over the world."
Bonnie Canino was an executive with U.S. #1 Fitness based in Dania, Florida and had a role as a boxing and kickboxing promoter. She organized an amateur all-women's boxing tournament on December 4, 1998 at the Hollywood (Florida) National Guard Armory. Bonnie managed her protege Ada Velez, (the first Puerto Rican woman to become a world boxing champion),  who won the IBA Bantamweight title by defeating Canada's Kathy Williams in January 2001. Bonnie also managed Yvonne Reiss, the WBC Women's Middleweight World Champion who won the title in 2006.
Bonnie Canino currently owns and operates Canino's Karate and Boxing Studio in Dania Beach, Florida.