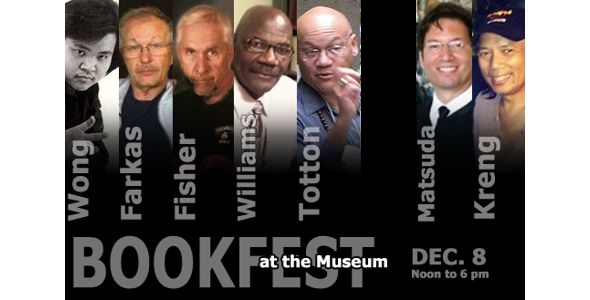 John Kreng, 2nd Unit Director and Stunt Coordinator, will be signing his textbook Fight Choreography: The Art of Non-Verbal Dialogue at the BOOKFEST at the MARTIAL ARTS HISTORY MUSEUM in Burbank, CA., alongside legendary martial artists that include Douglas Wong, Donnie Williams, Jerry Fisher, Carl Totton, Michael Matsuda, and Emil Farkas (with more to be added). The Museum is thrilled to have the authors of some of the most amazing martial arts books of all time. They will also have a book reading plus a Q&A and conduct a book signing as well. PLUS, the Museum will also have a variety of wonderful gifts on display for purchase. The event will run from 12 noon to 6pm on Dec. 8, 2012.
John has been training in various styles of martial arts since he was a child and holds black belts in Tang Soo Do and Daito Ryu Jujitsu. He has appeared in Black Belt, Martial Arts Training, Inside Karate, Impact, and Karate Review Magazines. As a Stunt Professional, some of the people John has worked Western and Asian talent that includes Jet Li, Steven Spielberg, Yuen Cheung Yen, Tsui Hark, Roger Corman, and the late David Carradine.
Fight Choreography: The Art Of Non-Verbal Dialogue (Cengage 2008, 508 pages) delved into the world history of how fight choreography evolved since the dawn of man to present day, while discussing the various theories on the art of fight choreography. The book is a required textbook at several universities for their film studies program.
Here are some reviews of John Kreng's book…. "…one of the most impressive books I've ever read about fight choreography and should be essential reading, not only to stunt fighters and film- makers, but any full blooded fan of the fight-film genre. Kreng doesn't try to lecture, but he gets his point across as you realize this is someone who is still a fan of the genre, but also works within the genre and has been on the receiving end of the action beats he talks about." Mike Leeder, IMPACT MAGAZINE (UK)
"Kreng knows what he is talking about…The book's 12 chapters explain the intangible aspects of movie fight scenes that karate schools or acting class just can't teach you." Patrick Vuong, BLACK BELT MAGAZINE "This is the first time in any language that a real unifying approach of how to mix all the cinematic elements of fight choreography has been engagingly detailed into a veritable know-how of historical and technical clarity…. Solidly lays down a path for anybody interested in learning the process of creating a simple or stylized fight scene for TV, film, stage and videogames…. Any university that claims to have reputable Film Departments or intense extension programs that boast about providing complete curriculums and courses that fully prepare their students for a career in film, TV and video production, should use 'Fight Choreography' as a required text." Dr. Craig Reid, KUNG FU CINEMA.COM
Established in 1999, the Martial Arts History Museum is a non-profit organization and designed as an educational, cultural and artistic experience in which visitors and young people can learn about each of the different Asian countries (China, Japan, Korea, Thailand, the Philippines, etc.) and how martial arts played a significant role in their culture, history and traditions. The Museum is something the whole family can enjoy from traditional Japanese Samurai, Theodore Roosevelt studying judo, Chinese lions, our step into the Olympics to such items as the Karate Kid headband, Mortal Kombat shield, etc.
The Museum is not designed as a "kick and punch or a who's who" facility, it is a timeline of how Asian history became part of American history. It is developing a better understanding of diverse cultures and a wonderful outreach for the community. The Museum also hosts a variety of unique events and seminars every other weekend. From special screenings, Samurai history, language workshops, sushi seminars, animation drawings, craft displays, martial art demonstrations to sword cutting performances, makes the facility a place to visit frequently. "We have great seminars because so many kind people want to give back to the arts that have helped them succeed in life and they are so wonderful to donate their time and effort," says Michael Matsuda, the Museum's Curator.
The Martial Arts History Museum is located at 2319 W. Magnolia Blvd., Burbank, CA (cross street Buena Vista) and is open from Thursday through Sunday, 11 am to 6 pm. It is a 501(c)(3) organization so donations and support are tax-deductible and encouraged. Group rates and special tours are also available upon request. Memberships are also available from their website at www.MAmuseum.com or calling (818) 478-1722.
To find out about the other projects that John Kreng is currently working on that includes a KUNG FU SUPERSTAR- a videogame for Kinesthetic Games, BATTLE B-BOY-a feature which won Best Indy Film at the Chinese Hollywood Film Festival, CALL IT A WASH- a web comedy sponsored by Subaru and TBS, KUNG FOOD FIGHT- a short film where he was Screenwriter and 2nd Unit Director, and more, please contact reelfights@gmail.com