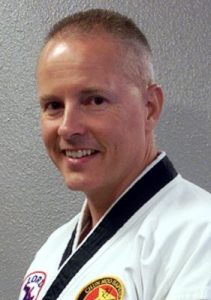 Senior Master Instructor Bradley Lord began his martial arts training in 1986. He is currently a 7th Degree Black Belt in Hapkido, a 3rd Degree Black Belt in Songahm Taekwondo, and a Purple Belt in Brazilian (Gracie) Jiu-Jitsu under the Team Hopkins linage.
Bradley Lord received his doctorate degree from California Southern University in Costa Mesa, California. His doctorate degree is in Clinical Psychology with an emphasis on Health and Sport Psychology. Dr. Lord has additional graduate degrees from Troy University in Troy, Alabama. Those degrees are in Counseling and in Clinical Mental Health.
Dr. Bradley Lord has worked in a variety of settings to include drug and alcohol treatment settings, inpatient children's psychiatric hospitals, and he has taught at the university level to undergraduate students.
Senior Master Instructor Bradley Lord's interests are in leadership development and performance.