Grandmaster Brenda Sell is one of the first females in the United States to rise to the level of Grandmaster. She has more than 28 years of experience in the study, training, researching, teaching, and performing of one of the World's most effective forms of self defense (Taekwondo Chung Do Kwan).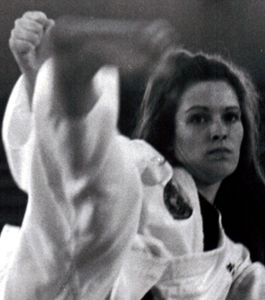 She has pioneered the role of women in Taekwondo worldwide with her determination to succeed and overcome the obstacles associated with being involved in a male dominated martial art.
Grandmaster Brenda Sell with Grandmaster Edward Sell has established an international Christian Black Belt Demonstration Team, called The Sell Team. They have received assignments through the U.S. Pentagon to perform at military installations throughout the world. They also perform in churches and public schools using Taekwondo to carry inspiring messages encouraging and motivating people of all ages to "be all they can be."
1970 – Began training.
1972 – Awarded Black Belt
1977 – First female to be awarded International Referee Certification by WTF.
1978 – Awarded the 4th Degree and Master rank.
1981 – Founder of The Sell Team, an International Christian Demonstration Team.
1983 – Debut of International Female Competition at the 1st Pre-World Games Seoul, Korea given in her honor.
1987 – Appointed as International Referee for the First Women's World Tae Kwon Do Championships in Barcelona Spain.
1988 – Awarded Black Belt of the Decade.
1989 – Received Letter of Citation from WTF for contributions to Tae Kwon Do.
1990 – Receives promotion to 2nd Class International Referee, WTF.
1995 – First female promoted to 7th dan.
1996 – Completes (with family) first Computerized CD-ROM training system of all WTF Taguek Poomse.
1996 – Ordained as a minister.
1998 – 1998 received the Grandmaster Degree. Featured on the cover of Tae Kwon Do Times.
2015 – Received Kukkiwon 9th Degree Black Belt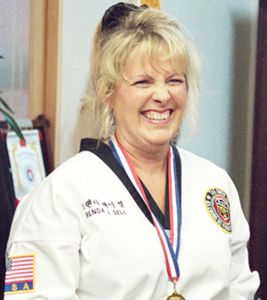 Grandmaster Brenda Sell is no stranger to making world history and leading in Tae Kwon Do.  After stepping into the Presidency of the United States Chung Do Kwan Association in 2004, Grandmaster Sell has initiated many new Taekwondo training resources, educational programs, and the U.S. Chung Do Kwan Association's very own Tournament Circuit.
Grandmaster Brenda J. Sell, has been traveling the United States and Canada hosting Presidential Tours at many of their charter schools. During these tours she has been able to teach the theory of "Chung Do" to a very broad base of students, black belts and Sr. Instructors. The theme of the seminar tours is entitled "Perfecting the Technique." Students work very intently on the small details that make a significant difference in their form and technique. Her passion for teaching poomse is evident, as she encourages students on how they can improve and obtain top scores in tournament competition, as well as gup and black belt testing. These tours have also enabled her to spend quality time with the Sr. Instructors, and have allowed her to share the wisdom and experience she has gained through her many years of teaching and training since 1970.
The U.S. Chung Do Kwan Association was founded in 1967 by Sr. Grandmaster Edward B. Sell, 9th Degree Black Belt . He was declared a Living Legend by the Korean government and pioneer of Taekwondo in America. He holds many World-Titles including the Highest Ranked foreigner (non Korean) in the World. Sr. Grandmaster Sell now holds the position of Kwan Jang giving direction and vision. The two married in 1975 and have been working side by side, 24/7 since 1973 sharing the benefits of Taekwondo throughout the Americas. Together, they are known as The Sell Team.
On September 10, 2015 Sr. Grandmaster Brenda J. Sell stood before the highest-ranked black belts on the planet at the Kukkiwon (World Taekwondo Headquarters) in Seoul, Korea and officially tested for and received her Kukkiwon 9th Degree Black Belt.