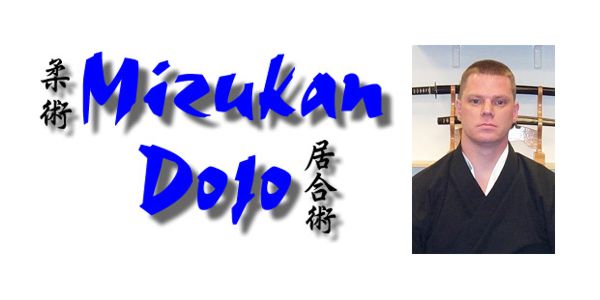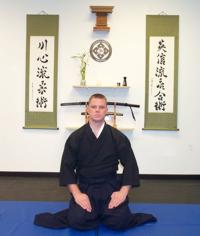 Brett Denison sensei has been a student and practitioner of Traditional Japanese martial arts for almost 30 years and holds the level of Menkyo Okuden in Senshin-ryu Jujutsu. He has also studied Shotokan Karate (earning a Nidan) and holds a Menkyo Okuden license in Katsujin-ryu Bujutsu.
Brett Denison has been studying Japanese Swordsmanship for over 20 years, primarily focusing on Iaijutsu. He is a student of Yamauchi-ha line of Muso Jikiden Eishin-ryu Iaijutsu and trains directly under Sekiguchi Komei sensei, 21st Head of the ryuha. He is the Shibucho (state representative) for Colorado, for Yamauchi-ha Muso Jikiden Eishin-ryu and for the Komei Juku. He is also a student of Shimizu Nobuko sensei for Ryoen-ryu Naginatajutsu.
Denison has been studying the Japanese language for over 16 years and is currently a student of Kampo-ryu Shodo (Japanese Calligraphy).
Denison sensei is the head instructor of the Mizukan Dojo. The Mizukan Dojo  (The House of Mizu) offers instruction in Senshin-ryu Jujutsu, which is a form of modern Japanese Combat Jujutsu.  The purpose and objective of this system is to teach an overall knowledge of effective self-protection, which covers all ranges of personal defense, while maintaining the traditional aspects and discipline of classical Japanese Martial Arts.
No written or verbal description can fully describe what Senshin-ryu Jujutsu is all about, or how it can be applied in such areas as self-protection, multiple defense, free style fighting or weapons use. The best way to learn more about this art is to watch it in action, then participate.
The Mizukan Dojo is affiliated with Katsujin-ryu Jujutsu, which is a part of the Katsujin-ryu Bujutsu system within the Kokusai Gendai Budo Renmei (KGBR).
To contact Brett Denison and the Mizukan Dojo visit their listing on the Martial Arts Schools and Businesses Directory by clicking on the image on the left.