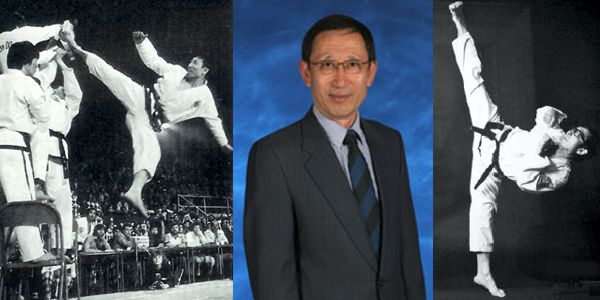 1941 – C. K. Choi or Chang-keun Choi born in Korea during Japanese occupation.
1956 – C. K. Choi Began training in Tae Kwon Do and Karate under Instructor [Army Captain] Hong Sung In and Instructor Kim.
1958 – C. K. Choi Trained under Master [Major] Woo Jong Lim, Director of Tae Kwon Do for the Korean 1st Army.
1960 – Master Woo Jong Lim created Tae Kwon Do Championships, the first ever held in Korea in Tae Kwon Do history. Won the 1st Tae Kwon Do [Oh Do Kwan] Championship in Pattern and Sparring in Won Ju, Kang Won Do, Korea
1961 – C. K. Choi Taught Tae Kwon Do at largest Korean Army Training Center under Master [Lt. Colonel] Woo Jong Lim and General Choi Hong Hi, assisted General Choi to create Gae-Baek Pattern and created High Jumping Side Kick.
1963 – C. K. Choi won the First Korean Tae Soo Do [Tae Kwon Do, Tang Soo Do, Kong Soo Do] Full Contact Heavyweight Championship in 3rd, 4th,5th Degree Black Belt Division.
Won the Korean Tae Soo Do Representative Full Contact Heavyweight Championship.
C. K. Choi selected as one of the ten First Korean Army Representative Team members
C. K. Choi won Korean Tae Soo Do representative Heavy-weight Championship in June
C. K. Choi was the first Professional Tae Kwon Do Instructor recognized by the Korean government.
1964 – Invited by Malaysian Tae Kwon Do Association to teach Tae Kwon Do in Penang, Malaysia.
1966 – International Tae Kwon Do Federation (ITF) was formed and received No. 5 Recognition Plaque as a founding member and instructor.
1970 – Opened the first Tae Kwon Do School in Vancouver, Canada.
1973 – Selected as one of four ITF Demonstration Team Members to tour 13 countries around the world.
Was the Chairman of the Umpire Committee of ITF
1978 – Selected as one of four ITF Demonstration Team members to tour Sweden, Poland, Yugoslavia and Hungary.
1979 – Selected as one of ITF Demonstration Team members to tour Argentina.
1980 – Created Sparring Patterns. Designed the ITF Uniform Logo.
Advised Gen. Choi not to take ITF Tae Kwon Do Demonstration Team to North Korea
1981 – Promoted to 8th Degree Black Belt by General Choi.
Attended the 1st South Pacific Tae Kwon Do Championships in Australia with General Choi
During this trip, Master Choi advised General Choi to resign from his position as ITF President and remain as Founder of Tae Kwon Do. This was because of General Choi's personal ties with North Korea and his insistence on taking the ITF Demonstration Team to North Korea without the support of the majority of the ITF Masters. At this junction, South Korea had no diplomatic ties with North Korea.
Elected as one of two ITF Representatives to hold talks with the World Tae Kwon Do Federation [WTF] in an attempt explore the possibility of a merger between the ITF and WTF. Met with Mr. Kim Un Yong (President of the Korean Tae Kwon Do Association, Kuk Ki Won and World Tae Kwon Do Federation) and his representatives but no agreement could be reached.
1980's-1990's – Taught Tae Kwon Do and gave assistance to Tae Kwon Do practitioners through teaching and promotional tests. Created practical sparring patterns.
2002 – Became 9th Degree Black Belt. After General Choi's death, Grand Masters: Nam Tae Hi, Kim Jong Chan, Kong Young II, Park Jong Soo, Rhee Ki Ha, Yang Woo Yup, Lee Yu Sun, Choi Chang Keun and others began discussions to unify Tae Kwon Do. Wrote Dateline Tae Kwon Do history.
2007 – Published his book "The Korean Martial Art of Tae Kwon Do and Early History".
Was inducted into the Tae Kwon Do Hall of Fame in New York, USA.
2012 – Received the Queen Elizabeth ll Diamond Jubilee Medal Award for the dedication of teaching Tae Kwon Do in Canada and around the world.
2013 – Wrote "Traditional Martial Arts Philosophy" with Master Tom Thurston.
Continues to travel worldwide to teach and promote Tae Kwon Do.
GM C.K. Choi believes that Tae Kwon Do practitioners must train both the mind and the body to achieve the highest levels of physical fitness and mental discipline. This will uncover the ultimate person within.