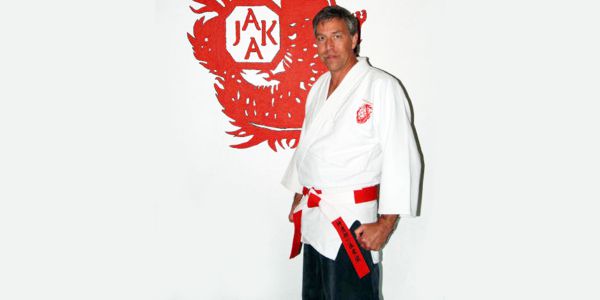 Shihan Charles Carter first began practicing martial arts in Sacramento, California in 1976, studying Danzan Ryu Jujitsu.
In 1990, he moved to Carson City, Nevada, and continued training in Danzan Ryu.
He taught junior and adult classes, and coached successful teams for ju-jitsu kata competitions. During this time, he was able to renew his relationship with his old Sensei from Sacramento and encourage him to return to teaching martial arts.
Shihan Carter accompanied Hanshi Chatwood when he started Sierra Jujitsu & Karate in 1995. He studied Shintoyoshin Ryu Jujitsu, Shuri Ryu and Shorin Ryu Karate, and continued teaching as his knowledge of these styles progressed.
In 1996 he married his wife Bonnie, coached and Medalled in the Okazaki Invitational, and his 1st grandchild was born.
Shihan Carter is an Engineering Technician and a Land Surveyor Intern.
Shihan Carter, a very knowledgeable teacher, continues to teach, coach, give demonstrations and instruct at seminars throughout Nevada.
CERTIFICATIONS:
Certified Judge Jujitsu – Shoshin Ryu Yudanshaki
Certified Judge Karate – American Jujitsu Institute
Certified Instructor / Examiner – US Ju-Jitsu Federation
MARTIAL ART RANKS:
Shichidan (7th Degree Black Belt), Shintoyoshin Ryu Jiu-Jitsu
Nidan (2nd Degree Black Belt), Shorin Ryu Karate
Nidan (2nd Degree Black Belt), Danzan Ryu Jujitsu
Shodan (1st Degree Black Belt), Shuri Ryu Karate
TITLES:
Shihan – American Jiu-Jitsu Karate Association International
Renshi Carter can be contacted at:
Sierra Jujitsu and Karate
3170 Research Way, #82
Carson City, NV 89706
Phone: (775) 882-8821