100 Deadly Skills: The SEAL Operative's Guide to Eluding Pursuers, Evading Capture, and Surviving Any Dangerous Situation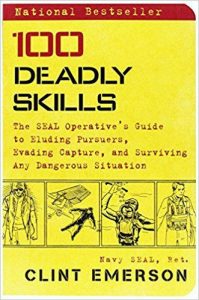 A hands-on, practical survival guide from retired Navy SEAL Clint Emerson—adapted for civilians from actual special forces operations—to eluding pursuers, evading capture, and surviving any dangerous situation.
In today's increasingly dangerous world, threats to your personal safety are everywhere. From acts of terror to mass shootings, and from the unseen (and sometimes virtual) matrix of everyday crime, danger is no longer confined to dark alleys or unstable regions. Potentially life-threatening circumstances can arise anywhere, anytime, and Clint Emerson—former Navy SEAL—wants you to be prepared.
100 Deadly Skills contains proven self-defense skills, evasion tactics, and immobilizing maneuvers—modified from the world of black ops—to help you take action in numerous "worst case" scenarios from escaping a locked trunk, to making an improvised Taser, to tricking facial recognition software. With easy-to-understand instructions and illustrations, Emerson outlines in detail many life-saving strategies and teaches you how to think and act like a member of the special forces.
This complete course in survival teaches you how to prevent tracking, evade a kidnapping, elude an active shooter, rappel down the side of a building, immobilize a bad guy, protect yourself against cyber-criminals, and much more—all using low-tech to "no-tech" methods. Clear, detailed, and presented in an easy-to-understand and execute format, 100 Deadly Skills is an invaluable resource. Because let's face it, when danger is imminent, you don't have time for complicated instructions.
Editorial Reviews
Review
"Essential reading for aspiring warriors, as well as professionals. Retired SEAL TEAM 6 operator Clint Emerson's expertise really shines." (H Keith Melton, author of Ultimate Spy)
"Clint Emerson delivers a knock out with 100 Deadly Skills. Comprehensive and chock-full of reliable info. This is the book you need to navigate the dangers of the modern world." (Mike Ritland, former Navy SEAL and author of Trident K9 Warriors)
"This is everything guys really want to know, but areafraid to ask out loud." (Brandon Webb, former Navy SEAL and author of Among Heroes)
---
100 Deadly Skills: Survival Edition: The SEAL Operative's Guide to Surviving in the Wild and Being Prepared for Any Disaster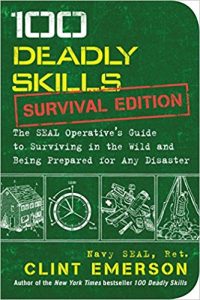 From national bestselling author and retired Navy SEAL Clint Emerson comes the essential guide for surviving today's emergencies—from navigating in the wild to staying alive in any disaster.
These 100 skills, adapted for civilians from actual field experiences of special forces operations, offer a complete hands-on and practical guide to help you survive in the wild no matter the climate or terrain; be prepared for any crisis; and have the critical life-saving knowledge for staying safe in any hostile environment or disaster.
Yesterday's survival guide is no longer relevant. 100 Deadly Skills: Survival Edition is what you need for today's world, combining survival hacks developed on the battlefield with the low-tech tools you have on hand. This book is your essential prep manual, from securing shelter, building fire, finding food, and navigating back to civilization no matter the environment to thinking like a special forces solider so that you can survive a hostage situation, an active shooter, a suicide bomber, or a terrorist threat on the subway, and even apply trauma medicine as a first responder.
Full of specific scenarios to help you get in the mindset of survival, 100 Deadly Skills: Survival Edition is better than a Swiss Army knife whether you're lost at sea, forced to land a plane, fighting off a bear, or deciding whether to run, hide, or fight. Next to each skill are easy-to-grasp detailed illustrations, because when you need to survive the apocalypse, you don't have time for complicated instructions.
---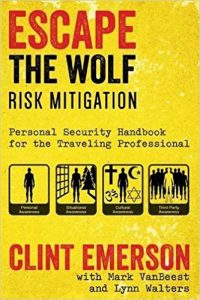 Escape The Wolf: A Security Handbook for Traveling Professionals
Author Clinton Emerson is a respected authority on mitigating risk for global travelers within government security circles.
In Escape the Wolf, Emerson shares his expertise in coping with various threats that lurk in today's world.
Once available only to defense contractors and government employees, the expert advice in Escape the Wolf is now available to you, and updated for 2016 with expanded sections, new topics and answers to questions posed by readers of the first version.
---
About the Author
Clint Emerson, retired Navy SEAL, spent twenty years conducting special ops all over the world while attached to SEAL Teams (including the elite SEAL Team SIX) and the National Security Agency (NSA). Utilizing an array of practical skills he developed to protect himself while at home and abroad, he created Violent Nomad—a personal, non-kinetic capture/kill program cataloguing the skills necessary to defend against any predator or crisis.
Biography
Clint Emerson grew up in Saudi Arabia, where his father was a civil engineer for the state oil company Saudi Aramco. He attended high school in North Dallas and enlisted in the Navy in 1994, serving stints in SEAL Team Three and SEAL Team Six, before retiring in 2014. Now 42 years old, he runs a crisis-management consulting company, Escape the Wolf, based in Frisco, Texas.