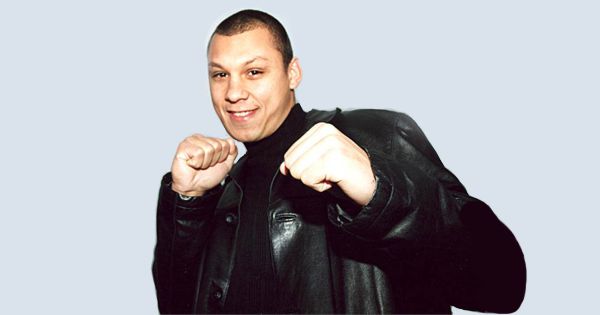 Cyril Abidi, known as "Marseille Bad Boy" was born on February 25, 1976. He is a French former super heavyweight kickboxer. His road to fame started in 2000 when he entered K-1 and created a huge upset with a first-round knockout win over legendary Peter Aerts.
Cyril Abidi grew up in the north quarters of Marseille (Consolat), in a modest Moroccan family. When he was 6, his mother took him to judo classes to keep him off the streets. He practiced judo for four years until he was inspired by Bruce Lee, his childhood idol, and started taking karate lessons.
When he was 18, he discovered Thaiboxing and became French champion at the age of 20. A year later he entered K-1, fighting against Petar Majstorovic in Zurich, Switzerland, and winning by a unanimous decision. Later that year, he won two back to back fights in the first round against Dutch fighter Peter Aerts. At their third meeting at the K-1 World Grand Prix 2000 Finals in the Tokyo Dome, Japan, Aerts beat Abidi in a three-round unanimous decision.
In his short foray into mixed martial arts, Abidi lost to Nigerian comedian Bobby Ologun in his first fight in MMA. Abidi was a last minute replacement for Mike Bernardo who was injured. The events surrounding the outcome raised suspicion of a fixed fight and Abidi seemed to lend credence to this in a post match interview.
I didn't have enough time to prepare for this fight, but I think I did do a good job for my first time. It was really good that my opponent is not so strong…..If he was a really strong fighter, I would have had had a hell of a time.
Why I am smiling a lot? Even though I lost this fight, I don't have any feelings that I really lost a realistic fight. Maybe this was as expected.
His fight against fellow Frenchman and rival Jérôme Le Banner at K-1 World Grand Prix 2005 in Paris, on May 27, 2005, is considered to be one of the greatest battles in K-1 history. Cyril Abidi lost by a technical knockout.
Titles
2003 K-1 World GP 3rd place
2003 K-1 World Grand Prix in Paris runner up
2000 K-1 World GP 3rd place
2000 K-1 World GP in Yokohama runner up
2000 Thai Boxing World champion
2000 French Heavyweight Amateur Boxing champion
1996 French Kickboxing champion