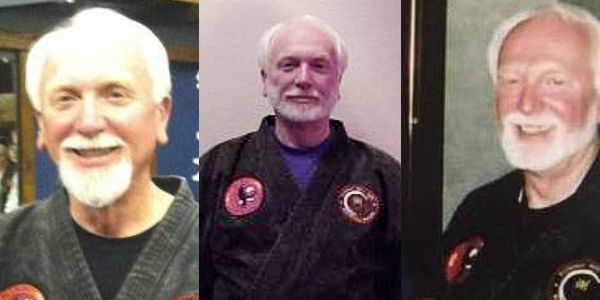 Master Dan McCuskey first became interested in martial arts at the age of 13 when his father (Frank McCuskey, a Navy and collegiate boxer) began teaching Dan and his brother the finer points of boxing. Discovering Judo while in the Air Force, Dan trained and competed while stationed in Japan in 1967. After returning to Idaho Dan continued his judo training with Master Mas Yamashita for another eight years before taking up WTF style Tae Kwon Do.
Since 1989 he has studied pressure point theory under Grandmaster George Dillman and has earned a 6th Dan in Mr. Dillman's Karate International system (DKI). Dan has spent the past eleven years as a personal student of Grandmaster Dillman's, traveling far and wide to train with Dillman. Many of Master McCuskey's controlled pressure point knockouts are featured in George Dillmans' video series. Dan is highly skilled at teaching pressure point applications in a variety of martial arts disciplines. He draws upon his experiences in multiple styles to help all practitioners enhance the effectiveness of their technique with the use of pressure point manipulation.
Dan McCuskey is also skilled in the healing arts and is certified in Reiki. During his martial arts career he has earned a 2nd Dan in World Taekwondo and a 2nd Dan in Sin Moo Hapkido, 2nd Dan World Ki Do Federation, 6th Dan Dillman Karate International, 7th Dan in Shinjitsukan Kenpo Kobudo under sensei Dean Stevens, as well as a 7th Dan, Northwest Ryu Kyu Kempo Association.
He is a Doctor of Divinity, Doctor of Metaphysics, spiritual healer, herbalist and raconteur.