Danny Steele was born on April 6, 1969 in Saigon, Vietnam. At age 5 Danny moved to Honolulu, Hawaii and began training with Bao Truyen, in a traditional form of Vietnamese Martial Arts.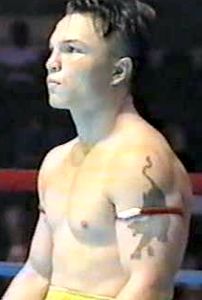 At 18 Danny began training under Eric Nolan in Kickboxing at the same gym in Bakersfield where Kathy Long trained. He then went to the Jet Center training under Ruben Urquidez and David Krapes. After years with Benny the Jet and crew, he went on to train with Seaksan Janjira of the Saekson Muay Thai Association.
Danny Steel was self managed until 2005 when he went under contract with Bob Chaney's Muay Thai Studios in Upland California. Bob Chaney became  his official trainer and manager.
Danny had already amassed 4 Amateur World titles with an undefeated record of 30 and 0. His professional record is 80 wins 15 losses with 2 draws.
Danny Steele won:
the "ISKA Light Weight World Title" by defeating Anthony Fernandez in Reno, Nevada 1n 1995.
The "NAMKA Welter Weight World Title" by decision over Sakasem Fairetex at the Bicycle Club Casino in Los Angles, California in 1996.
The "IKF Junior Welter Weight World Title" from Canadian Dave Horvic in 1997 then successfully defended that title defeating Melchor Miner by knock-out in the sixth round in Hawaii in 1999.
The "WKA Junior Welter Weight World Title" from Holland fighter Patrick Erickson in Puerto Rico in 1998.
The "Draka Light Weight World Title" from Isatibeck from Kyrgyzstan by way of second round knock-out at the Olympic Auditorium in Los Angeles in 1998.
The "IKKC Super Welter Weight World Title" with a first round knock-out over Baxter "The One Armed Bandit" Humby at the Crystal Park Casino in Compton, California in 2002.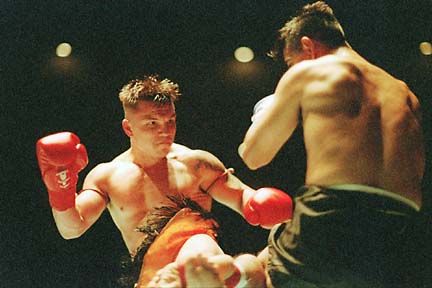 Danny was contracted with and placed himself under the tutelage and care of Master Bob Chaney.
Danny Steel's last fight was against Michael Mananquil for a seventh World Title on September 30, 2006 at the Hollywood Park Casino in Los Angeles, California. Michael Mananquil won by TKO at :35 of the third round over Danny Steele. Steele went for a kick and fell with his leg buckling under him. Steele did rise for a few more seconds, attempting another kick and fell again. The referee stopped the bout as Steele was unable to continue due to injury.
Danny Steele has retired from fighting.