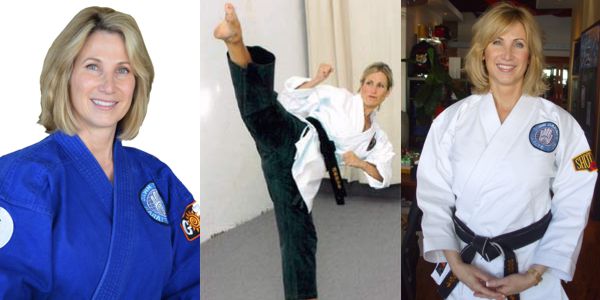 Sensei Dawn Barnes' love of karate began in 1984 when, at the insistence of her two young sons, she enrolled the boys and herself at the Beverly Hills Karate Academy. She drew on her experience as a classically trained ballerina as well as a professional stunt woman and progressed rapidly through the program. Training for three hours each day, she soon earned her black belt from Emil Farkas, 7th degree Master, in March of 1988. From 1990-1993 she taught karate in local elementary schools until in March of 1995, she opened Dawn Barnes Karate Kids, Inc. in Santa Monica, California.Sensei Dawn Barnes is a 3rd degree black belt in Shotokan Karate, and currently owns 7 schools around the Los Angeles area located in Santa Monica, Redondo Beach, Manhattan Beach, Sherman Oaks, Encino, Calabasas, and Westlake Village.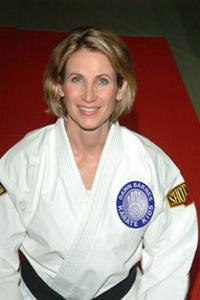 Sensei Dawn Barnes, "America's Leading Female Martial Arts Entrepreneur," is the only female in the country to own seven martial arts schools. With over 1700 students and growing, she owns the most successful all-children's martial arts schools in the world. Her Instructor manuals outline her unique teaching method called "Positive Dialog Response" which educates instructors on how to inspire self-esteem in their students by using affirmative, age-appropriate dialog.
Sensei Dawn Barnes writes and lectures nationally to other school owners through the Martial Arts Industry Association, and is also the author of a successful children's book series for Scholastic Inc. called, The Black Belt Club. Her three-book series has sold nearly 200,000 copies to date, with plans in development to create a multi-media franchise for film and television.
Charity is also part of her life as she promotes reading through the national organization called Reading is Fundamental, which distributes books to lower income families. As well, she is on the Board of Directors for Kids Kicking Cancer, an organization that teaches ill children self-empowerment through martial arts and meditation skills.
For her contributions to the martial arts and children, Dawn Barnes was inducted into the Black Belt Hall of Fame as "Woman of the Year 2006."