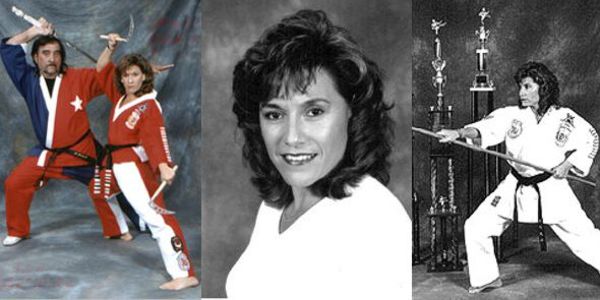 It is easy to see now, what Lou Casamasa saw then, in a young Deanna Bivins when he and his son Chris, handpicked her to run their Red Dragon School in Claremont, California seven years ago. The Casamasas had the courage to do what was then unheard of, to have a woman run a martial arts school. The Casamasas had watched Deanna grow from a young teenage girl who had to overcome tremendous obstacles, including a serious weight problem, into a martial arts champion competitor and instructor.
When she was 12, Deanna's parents separated and her father moved from their home in California to Texas. Shortly thereafter, Deanna visited her father in Texas with her two older brothers, and there she she was accidentally told by her father that she was adopted.
Deanna passion for the martial arts kicked in when she was about 9 or 10, as she sat with her father watching the old Kung Fu television series. For her 12th birthday, Deanna's mother enrolled her in David Hardin's Taekwon-do school., believing that it would help her with her weight and her self esteem.
David Hardin's closed down a year into Deanna's training and she went searching for another dojo. She found Lou Casamasa's Red Dragon System. When Deanna was 20, Sensei Casamasa became Shihan Casamasa and turned the operation of his schools over to his son Chris with whom Deanna had grown up.
Deanna Bivins did drop out of the martial arts for about a year and half when she was 18. When Deanna finally returned to her training she did so with a new sense of dedication and her competitive career took off .
Between 1990 and 1995, Deanna Bivins won dozens of championships including five consecutive first place titles in weapons, kata and sparring. In her final competition at the 2000 World Martial Arts Games in Sydney, Australia, she won two Gold Medals in weapons.
In 1992, with her competitive career drawing to a close, Chris Casamasa asked Deanna to manage his Covina school. At the time, Deanna was one of Nutri-System's leading salespeople. She continued to work for Nutri System while she managed the Covina school, and when the opportunity came, Deanna bought the Claremont school.
The Claremont school was such a success, that Deanna opened a second school in Pomona.
Today, Deanna Bivins also pursues guest and motivational speaking engagements and she is in great demand as she motivates people to move out in confidence!