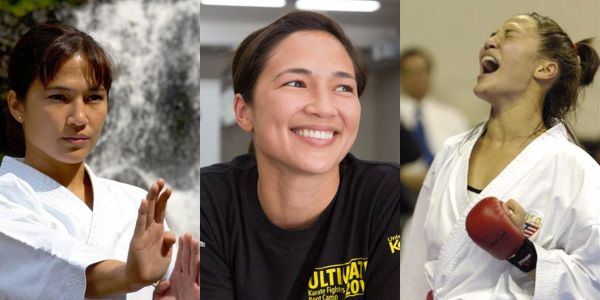 Sensei Elisa Au is a 3rd Degree Black Belt in Shito-ryu Karate. She was born in Hawaii and began training in the martial arts at the age of 5, studying under Shito ryu legend Chuzo Kotaka, the 1962 All-Japan champion. Au is a three time kumite champion in the World Karate Federation, the only karate organization that is recognized by the International Olympic Committee. She is the 2nd American to become Karate World Champion. She captured the 60+ kg. kumite world title in Madrid, Spain and the gold at both the Pan American Championship and the 2003 US Nationals. Au is one of three women who represented the U.S. in karate at the Titan Games in San Jose, California. She has also built a name for herself in forms. Au is a civil engineer who loves to travel.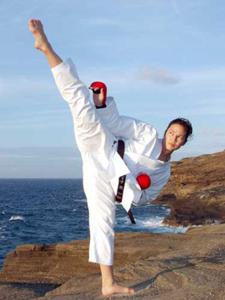 Elisa Au Accomplishments:
3-Time WKF World Champion
2002 Women's World Cup Kumite Champion
2002 Pan American Championships
2 Time AAU Women's Kumite Grand Champion
5 Time USA National Champion
7 Time AAU National Champion
2 Time WKC World Champion
2 Time WKO World Champion
3 Time All Hawaii Women's Black Belt Kumite Champion
2 Time Jr. World Champion
2 Time Jr. Pan American Champion
More About Elisa Au
Elisa Au, daughter of Jane and Gary Au, was born in Honolulu, Hawaii on May 29. She started the sport of karate at age five through the encouragement of her parents. Elisa's first out-of-state competition was the 1990 AAU/USA National Championships held in New Orleans, Louisiana. There she won a bronze, silver and gold medal in her nine-year old division. This national experience intrigued Elisa's interest in karate more than ever. The following year, Elisa received her black belt from the International Karate Federation headed by Chuzo Kotaka, who is still her instructor today.
By the age of 18, Elisa had won 3 WKO World Championships and 2 WKC World Championships. In addition to her demanding karate schedule, Elisa also participated in figure skating, gymnastics, canoe paddling and track & field, while attending Punahou School  an elite college preparatory academy in Hawaii. She also excelled academically and maintained honor roll status throughout high school.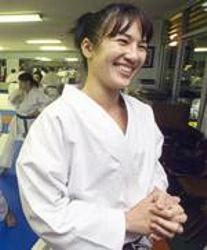 In 2002, Elisa won the Women's World Cup. This was the first of many WKF world titles to be won by Elisa. The WKF is the only international organization officially recognized by the International Olympic Committee. Several months later, Elisa also won the PanAmerican Championships, held in Puerto Rico. Capping off a remarkable year, Elisa won a gold medal in the women's +60kg weight category at the 2002 WKF World Championships held in Madrid, Spain. This was a great moment in USA Karate history as Elisa became the first American woman to ever win a WKF World Championship.
The 2004 WKF World Championships were held in Monterrey, Mexico. Elisa started her competition in the women's open weight category. Just as in 2002, Elisa beat out representatives from over 40 countries to win a second world championship gold medal. The following day, Elisa continued her superb performance to win the +60kg weight category. Elisa made world history this time, becoming the only person to ever win two individual gold medals at the same world championship. Her performance was truly outstanding.
Elisa will continue to compete and make national and international appearances. In addition to competition, Elisa also teaches seminars around the world, including Japan, Canada, Australia and the U.S. Elisa also offers a 6 set DVD series, entitled SECRETS of Championship Karate that shares her training methods and ideas along with tips on how to succeed in karate competition.
In addition to her karate achievements, Elisa also graduated in civil engineering at the University of Hawaii in 2003. She has also done some acting in local film work based in Hawaii, including both karate and non-martial art related projects.