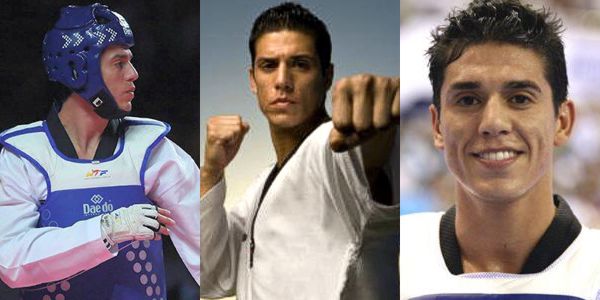 Lopez Brothers, Olympic Taekwondo Royalty, Hit With Sex Abuse Allegations
Steven Lopez was born on November 9, 1978 He won gold medals in both the 2000 and 2004 Olympic Games in taekwondo. Lopez became the first official Olympic gold medalist at the 2000 Olympic Games. In 2001, Steven won the Lightweight Taekwondo World Championship. In 2003 he won the Welterweight Taekwondo World Championship which he has continued to win in 2005, 2007 and 2009. This makes him the first Taekwondo fighter to win 5 World Championships.
Lopez was born in Nicaragua, and moved with his parents to New York City in 1972. In his native country, his father, Julio, worked for the government of the then-President Anastasio Somoza. When President Somozawho was overthrown in 1979 after the Sandinista Revolution, Stevens father was forced to take odd jobs to support his family. Hoping for a better Life, Julio moved his family to Texas.At the age of five, Steven began studying the sport of Taekwondo from his father and Jean, his older brother. They worked out in the families garage.
Steven is a 1997 graduate of Kempner High School in Sugar Land, Texas where he was voted "most likely to succeed" and was member of the National Honor Society.
Steven comes from a family of martial arts competitors. His siblings, Mark, Diana and Jean Lopez (coach) are all USA National Team Members in Taekwondo. His younger siblings, Mark and Diana, also represented the United States at the 2008 Beijing Olympics. This marked the first time since 1904 that three siblings have been on the same Olympic team. In April of 2005 Both Lopez and his brother, Mark (men's featherweight) and sister Diana (women's featherweight), made sports history when they all claimed a world championship title at the same event (2005 World Taekwondo Championships). Their oldest brother, Jean, was their coach.
Lopez has appeared in People Magazine's 50 Most Beautiful People.
2009 World Taekwondo Championships (Welter): GOLD
2008 Beijing Olympic Games: BRONZE
2007 World Taekwondo Championships (Welter): GOLD
2007 Sr. National Team Trials (Welter): 1st
2005 U.S. Olympic Committee Male Athlete of the Month (April)
2005 World Taekwondo Championships (Welter): GOLD
2005 Sullivan Award Finalist
2004 Athens Olympic Games: GOLD
2004 US Olympic Team Trials: GOLD
2004 Sullivan Award Finalist
2003 World Taekwondo Championships: GOLD
2003 World Taekwondo Qualification Tournament: BRONZE
2003 Pan American Games: GOLD
2003 Sullivan Award Finalist
2002 World Cup Taekwondo Championships: BRONZE
2002 Pan American Games: GOLD
2001 World Taekwondo Championships: GOLD
2000 Sydney Olympic Games: GOLD
1999 Pan American Games: GOLD
1999 Pan American Regional Olympic Qualifier: SILVER
1998 World Cup Taekwondo Championships: BRONZE
1998 Pan American Taekwondo Championships: GOLD
1997 World Cup Taekwondo Championships: GOLD
1996 Pan American Taekwondo Championships: GOLD
1996 World Junior Taekwondo Championships: GOLD
1995 Pan American Taekwondo Championships: SILVER
1994 World Cup Taekwondo Championships: BRONZE
1993 Jr. Olympic: BRONZE