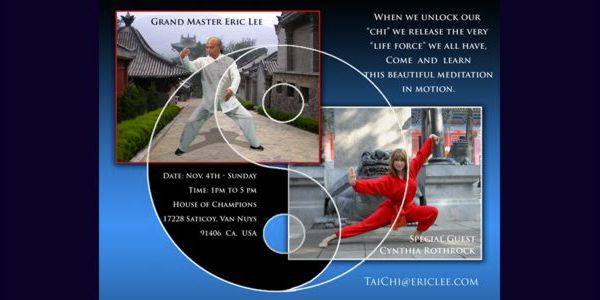 Join Grand Master Eric Lee for his Fundamentals of Tai Chi Workshop in Van Nuys, California on November 4th, 2012.
TIME and DATE: Nov 4, 2012 1-5pm
LOCATION: House of Champions, 17228 Saticoy Street, Van Nuys, CA 91406
CONTACT PERSON: Mike Replogle (323) 285-7270 or taichi@ericlee.com
Even with a star-studded career in both Hollywood and the martial arts, Eric Lee is not one to dwell on past glories.
"That was 40 years ago," says Grand Master Lee, who still kicks with all the agility and grace of a young man. "This is now."
Lee- a world famous star in many martial arts films and TV productions, Black Belt Magazine Hall of Fame inductee, and Kung Fu competition's undefeated "Little King of Kata" – has continued his evolution and is proud to announce a new mission in life: to bring the inner peace and harmony of the traditional Chinese art of Tai Chi to a stressed-out world.
"Tai Chi is an ancient system of health and fitness," says Lee. "It emphasizes a slow motion method of 'moving meditation' that anyone can learn and everybody needs."
Modern life is filled with stress and tension, Lee says. He believes that Tai Chi can be a powerful effective alternative to an all-too-common reliance on prescription drugs or cocktails after work.
"Tai Chi is meditation in motion," Lee emphasized, "It can release the tensions of everyday stress, naturally, without the negative effects of drugs or alcohol."
Lee goes on to explain that this time-honored, slow motion form of exercise can unblock acupuncture channels, known as "meridians," and create relaxation naturally so that the "chi" or life energy will flow naturally, improving concentration, circulation, and the tone of the nervous system. Lee says that these benefits mean a stronger immune system, better physical fitness, and better health in general.
"If we are stressed," says Lee, "our energy will be restricted. If you are relaxed you will create more peace more harmony and more balance in your life. That's true! Tai Chi will give you a more peaceful mind and stronger body."
Lee's special guest for the event will be fellow martial arts champion and movie star Cynthia Rothrock.
The price for the seminar is $125, and includes a certification in Tai Chi Fundamentals personally signed by Grand Master Eric Lee.
For more information or to register, please go to www.ericlee.com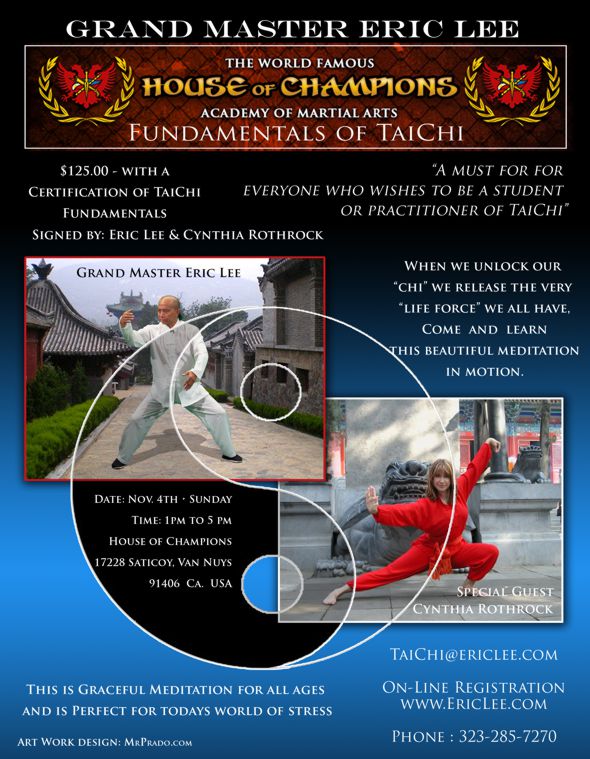 Eric Lee Fundamentals of Tai Chi Workshop High Resolution Flyer