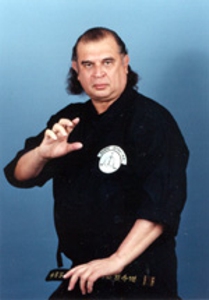 Feliciano Ferreira, known as Kimo, founder of Kempo-Jutsu, was born on November 20, 1949 in Oakland, California. Three months after he was born, the family moved to Hawaii where he spent the rest of his childhood. It was there that he was introduced to martial arts. His grandmother had sent Feliciano Ferreira to a nearby Kempo-Karate dojo when he was 6 years old, so that he could confront his physical weakness. In his early childhood Feliciano Ferreira suffered from asthma. But as he trained at the dojo, he became stronger both physically and mentally. He became a Shodan in 1968 at the age of 19.
Following the year that he became a Shodan, Professor Feliciano Ferreira was drafted for service. In his years in the army, Professor Ferreira was stationed in Vietnam, Panama, Germany and Korea. He was in the forefront of the U.S. forces in Vietnam and took on many special operations, often risking his life. During his times of service, Feliciano Ferreira came into contact with various indigenous martial arts that he observed and learned.
After retiring from service in 1989, Professor Feliciano Ferreira founded a Kempo-Jutsu dojo in Hawaii. Today, he travels around the world to promote Kempo-Jutsu. While he teaches in seminars, he also contacts local martial artists and introduces them to the United States. Professor Ferreira is not only interested in promoting Kempo-Jutsu but also interested in promulgating the benefits of martial arts in general.
Professor Ferreira's desire to promote martial arts comes from his feeling of gratitude towards martial arts. Earlier on in his life, he was encouraged by one of Ed Parker's students, Vinton Kuklich to promote Kempo-Jutsu. Kuklich insisted that Professor Ferreira possessed superior techniques and he had to spread the art. This resonated with Professor Ferreira's feeling of gratitude towards martial arts for saving his life many times in the battlefield. He therefore saw it as his mission to promote martial arts throughout the world and continues on that mission until today.
Brief History:
Name:
Feliciano B. Ferreira (Nickname: Kimo)
Born:
November 20,1949, in Oakland, California
1950's:
Started Kempo-Karate (at 6 years of age)
1968:
Received 1st Dan (at 19 years of age)
Rank:
5th Dan Kempo (Walter Godin) 1st Dan Aikijutsu, Studied Escrima, Created system and founded Kempo Jutsu Kai