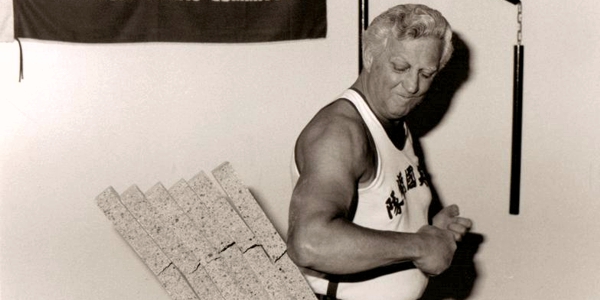 Grand Master Gene Chicoine was born in Akron, Ohio, of French-Canadian decent. In 1946 he began his martial arts training in Japan while enlisted in the military forces. Upon his return to the states in 1949, he discovered no karate schools in existence, only Judo. He continued his practice through 1950 and then began training in Chinese Martial Arts. After years of continuous application Master Chicoine ranked as a sixth degree black belt out of Hong Kong in 1977. It was then he began training under Grand Master Dung Sheng Chang, the undefeated open fighting champion of all China and tenth degree black belt. In 1979 he became a disciple of Grand Master Chang during a ceremony in Taipei. During the following years, Grand Master Chicoine achieved ranks of seventh, eighth and ninth degree black belt. Ultimately reaching the highest rank in the world next to Grand Master Chang himself.
In 1982 Grand Master Gene Chicoine became the first Vice President of the International Shuai-Chiao Association during its foundation. He eventually took over as President of the ISCA in 1986 just before the death of Grand Master Chang. After Grand Master Chang's death, the rank of Tenth Degree Black Belt was retired. Ten years later this distinction was awarded to Grand Master Gene Chicoine by a vote of the Shuai-Chiao committee of Taiwan.
Grand Master Gene Chicoine is internationally famous for his skills in the practice of Iron Palm, Poison Hand and Iron Vest. He has been trained in many of the old Chinese styles for strength and health along with an enormous knowledge of many Chinese styles of fighting. After his meeting with Grand Master Chang, he was trained to specifically teach seventy-two techniques. These employ the use of the internal styles of Hsing Yi, Pa Qua and Lo Han in conjunction with the Shuai-Chiao throwing arts. Grand Master Chang also trained him in the Yang style Tai Chi Chen and its fighting uses.
Grand Master Chicoine also has had extensive training in meditation and the proper uses of Chi Gong in the mastering and control of Chi in its fighting applications. He has been teaching for forty years and training for fifty-three years.
Grand Master Chicoine owns and operates schools know as Ho Chun and is President of the ISCA until his death. His schools are the only legitimately recognized representative of all of Shuai Chiao, including the motherland Taiwan, in the world. Until 1994, entrance into his school was by referrals only and now membership is only granted after a personal interview. Grand Master Chicoine has been inducted into several halls of fame. He has been recognized in Taiwan with numerous awards. Many of his students are undefeated in his open fighting specialty. He continues to teach Martial Arts as he has been directed to for what it was designed. The history of his teaching is based in the training of military units in China for centuries. Its intent and purpose is for combat not for sport. Grand master Chicoine still trains military and police units across the country and over seas. He is one of, if not the oldest teacher of Martial Arts, outside of Judo, in the U.S. It is his goal to inform all those interested in Chinese Martial Arts, the real truth about its history and uses. He remains in excellent condition due to his practice and knowledge of Chinese exercise and the use of the herbs and western food supplementation. Only those who have been instructed in their use live an active and long life.
Grand Master Gene Chicoine has lived the life of ten men and continues to live the life of several more. His knowledge and expertise in the world of real Martial Arts was recognized by his Martial Arts Uncle, Grand Master Hwang, who, before his death, was a brother to Grand Master Chang and head of the Hsing Yi and Pa Qua systems, as was his father in Mainland China before him. His father was one of the instructors in the famed Nanking Martial Arts Academy, where the last masters of the dynasty were brought together to teach only the most promising students. These students were required to learn and become experts in all of the original Internal Styles. Master Hwang considered G.M. Chicoine to be one of the last students to be taught the old ways and is considered one of the oldest teachers of Military Martial Arts alive today.