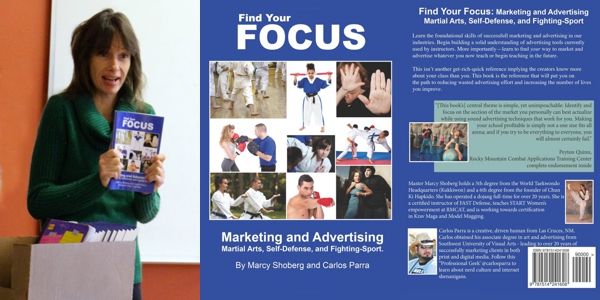 Get a common-sense, no-hype education in the application of ALL advertising tools unique to the martial arts industries. Learn to use social media, websites, flyers, commercials, print ads, networking, signage, demos, presentations, word of mouth, billboards and more.) PLUS learn about a system that will guide you to find the best advertising tools for YOUR school—Your Focus.
About the Authors
Author Marcy Shoberg is a 5th Degree Black Belt in Taekwondo fron the World Taekwondo Headquarters (Kukkiwon); a 6th Degree from the founder of Chun Ki Hapkido. She is a certified FAST Defense Instructor, teaches START Women's empowerment at RMCAT, and is working towards a certification in Krav Maga and is a Model Mugging Board Member. She has owned and operated a martial arts and self-defense school in a mid-sized town in southwest United States for over 20 years.
Coauthor Carlos Parra has an associates Degree in Art and Advertising from Southwest University of Visual Arts. He has spent over 20 years in print and digital marketing, successfully marketing clients in both print and digital media. He is a web developer, designer, SEO, blogger, programmer, and internet marketer that knows how to help businesses with their online presence.
---