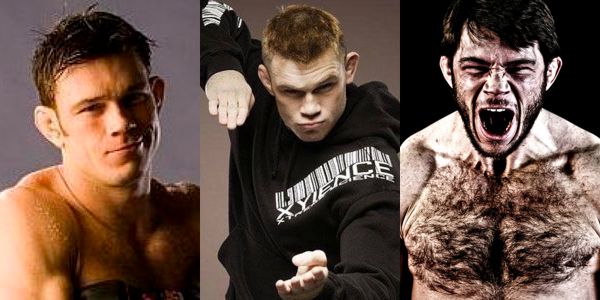 Forrest Griffin was born on July 1, 1979 in Columbus, Ohio. He attended the University of Georgia, receiving a bachelors degree in Political Science. To pay the bills, he worked in local law enforcement for the Richmond County Sheriff's Office in Augusta, Georgia and he served as a patrol officer for the University of Georgia Police.
He trained at the HardCore Gym for five years under Adam and Rory Singer. Here he developed his trademark Sprawl and Brawl style of fighting, a raw combination of martial arts fused with a bare knuckle barroom fighting techniques. His technique may not have had the finesse of other fighters, but he was fueled by power and heart.
Before his stint on the Ultimate Fighter, forrest fought Jeremy Horn, Chael Sonnen and he fought early UFC veteran Dan Severn in his first pro fight. Forrest Griffin showed his incredible ability to perserver in his fight with Edson Paradeo. Edson broke Griffin's left arm when Forrest attempted to block a roundhouse kick Edson aimed at his body. Forrest continued to fight and he won by a knockout strike using right hand.
In 2005 he considered retiring from the sport despite his 9-2 amateur record. It was only on a whim that he responded to an audition notice for The Ultimate Fighter, which became SPIKE TV's first big hit. Forrest was considered a long shot by the other contestants and he became a frequent target of his fellow fighters pranks. In the season finale, however, forrest defeated Stephan Bonnar by a unanimous decision and UFC owner, Dana White, called the fight the "most important fight in UFC history" since it brought the fledgling sport of mma competition into the mainstream. Forest won the the grand prize which was a professional contract to fight in the UFC. So, instead of retiring from the sport, he retired from police service instead, and pursued a full time career in professional mixed martial.
Forrest won three out of four matchups, but he was handed a major defeat by Keith Jardine at UFC 66. Jardine won by way of TKO at 4:41 of the first round. After the fight, a visibly distraught Griffin walked away from announcer Joe Rogan's attempt to interview him, saying, "Keith came in and he did exactly what he wanted to do, he knocked me…out. Let's go home." Griffin then walked off camera, leaving Rogan strandes. Grioffin reappeared a few minutes heading the opposite direction saying, "I'll be back," and then he ran full speed out of the Octagon and into the locker room. Griffin wasn't finished.
Griffin soon won back-to-back victories against Hector Ramirez and Mauricio Rua. These wins set the stage for the showdown at UFC 86 where he and Quinton "Rampage" Jackson would fight for the light heavyweight belt. Griffin was viewed as a heavy underdog, and he appeared to be finished in the first round after getting caught by an uppercut which dropped him, but Forrest battled back, landing a damaging leg kick in the second round. In the third round, Griffin pummeled Jackson with ground strikes. The bout went the distance. Forrest won the fight by a unanimous decision and was became the Light Heavyweight Championship. Griffin's documented pay for this fight was $310,000. $100,000 to fight, and win bonus of $150,000, plus $60,000 for the Fight of the Night award.
On December 27, 2008 at UFC 92: The Ultimate 2008, Forrest defended his title for the first time against the undefeated Rashad "Sugar" Evans. Evans had beat UFC legend, and former champ, Chuck Liddell to earn the shot at the championship. Griffin controlled most of the first two rounds with effective striking, but Evans caught one of Griffin's kicks and took him down. Evans went on to defeat Griffin by TKO in the third round with ground and pound from inside Forrest's guard. The loss was Griffin's third loss since entering the UFC.
At UFC 101 Forrest fought Anderson Silva. During the bout, Griffin was knocked down three times in the first round. During the third knockdown, Griffin charged Silva with a flurry of punches, but each was avoided by Silva. While retreating, Silva, countered with a compact right hand knocking Griffin out. After the fight, Griffin got up from the canvas and left the cage. Both fighters were awarded $60,000 as Fight of the Night bonuses and Silva received an additional $60,000 in bonus money for Knockout of the Night.
Forrest took on a rematch with Tito Ortiz at UFC 106. Griffin went on to win the fight by split decision. He showed superior striking skills and a stronger ground game than when the two had fought previously.
On February 5, 2011 at UFC 126, Griffin faced former UFC Middleweight Champion, Rich Franklin and won by unanimous decision.
On August 27, 2011 at UFC 134 a rematch with Maurício Rua took place at UFC 134. Griffin lost the bout via KO (punches) in the first round. He received jawe and foot injuries during this fight and was unable to fight  until his next fight in July 2012. Before the fight, Griffin had found out that his wife had gone into labor.
At UFC 148 Forest Griffin faced Tito Ortiz for a third time on July 7, 2012. He won the fight with a 29-28 unanimous decision out-striking Ortiz 2:1 even though Forest had been knocked down by Ortiz as well as being taken down two different times. Griffin and Ortiz won Fight of the Night for this fight and each of them earned a fight bonus.
After this fight, for the third time in his careen, Forest left the Octagon, simply walking out of the cage before the fight results were read. He later went back into the ring.
Griffin was going to fight Chael Sonnen at UFC 155 in a rematch on December 29, 2012. Instead Sonnen was pulled out of the fight to coach TUF season 17. Griffin was then expected to face Phil Davis at the event. However, on December 5 it was announced that Forrest was forced out of the bout due to an MCL tear and ACL strain.
Forest Griffin hoped to return from injury by the end of 2013, but on May 26, 2013 before UFC 160, Forest let it be announced that he was retiring from fighting due to chronic injuries. Dana White then announced that both Forrest Griffin and Stephan Bonnar would be inducted into the UFC Hall of Fame on July 6 2013.