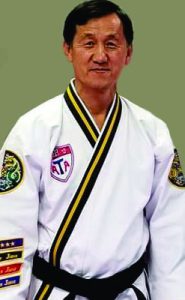 G.K. Lee was born in 1957 in Daegu City, South Korea. He began training in the martial arts when he was in second grade and he received his first Black Belt in Tang Soo Do when he was only 12 years old.
He served in the Korean Army from 1978 to 1981 where he taught Taekwondo.
Grand Master G.K. Lee is the International Chairman of Protech for ATA Martial Arts. In the early 1990's, ATA introduced Protech weapons and specialized defense tactics as part of their curriculum, and Lee has spearheaded the development since its inception. The first seminar Grand Master G.K. Lee taught in Protech was Joint Locks in Pittsburgh, Pennsylvania.
G.K. Lee was tested for his 9th dan on July 1, 2016 at the 2016 ATA World Expo in Little Rock, Arkansas, where the ATA Martial Arts organization, one of the world's largest taekwondo organizations, is headquartered.
With a martial arts career that spans over four decades, Lee gained popularity and respect in the industry with his athleticism and innovative ideas. He was a member of the ATA Founders' and Masters' Councils from 2017-2019 which includes Grand Master In Ho Lee, Grand Master Emeritus Soon Ho Lee, and Grand Master instructors Bill Clark, Robert Allemier and the late Richard Reed.
G.K. Lee was promoted to the 4th Presiding Grandmaster of the ATA Martial Arts organization and took his position in 2019.
ATA Martial Arts has had over 1,500 independently owned and operated schools and clubs and hundreds of thousands of students. Since the organizations founding in 1969, ATA schools and clubs have registered over 1,000,000 students.
In addition to his work with the ATA global headquarters, G.K. Lee also owns several ATA licensed schools in central Arkansas and western Tennessee with his wife, Chief Master Kathy Lee.
Contact G.K. Lee and the ATA International organization through their listing on the Martial Arts Schools & Businesses Directory or FindADojo.com by clicking on the image on the left.